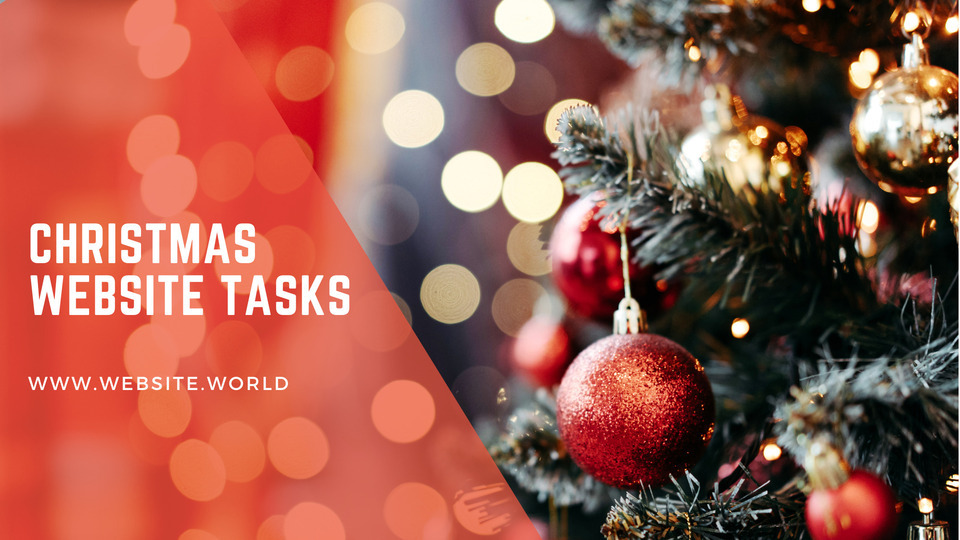 It's beginning to look a lot like Christmas, except on your website. But that's okay, because we're going to help you remedy this by making a list (and checking it twice) of the things you need to do to prepare your website for the holiday season. We'll also give you some neat tips on where you can find awesome free Christmas stock images from, where to create your Christmas website graphics and how to upload them to your website, plus examples of Christmas themed lead magnets to add to your website. Then there's the answer to the question we get asked most often; should I put my hosting on hold while I take time off work?
Checklist to Prepare Your Website for Christmas
You better not shout, you better not cry and you better not pout because we're telling you why...you don't need to stress about how to get your website ready for the holidays! We've done all the hard work for you and made a checklist of all of exactly what to update on your website for the Christmas season, and when!
Check everything with your website is working correctly in November - your website and its content are a highly valuable tool that turns visitors into customers. Spend the time working through your website page by page, checking that all links, forms and buttons are working as expected. Doing this in November gives you time to fix any issues, plus lets you add and then test any new website features.
Update your website graphics in late November - remember how annoyed you were when the shops started playing Christmas music playing in October? Well, the same thing goes for your website. Keep the theming to a minimum until late November before introducing your Christmas graphics.
Plan and create Christmas lead magnets from September - Christmas themed lead magnets are designed to specifically target and capture the contact details of visitors to your website over the festive season. Because they do take some time to plan and design, as well as creating a lead magnet page, we suggest starting this process in September. That way you can check everything is working as expected before sharing the page link with your audience.
Run Christmas promotions in November and December - now's the time to start your Christmas promotions, whether you are wanting to increase website traffic, conversion rates or highlight seasonal products and services. Promotions could include buy one get one free or a percentage discount, with further ideas in Business Networking NZ's article 25 Effective Christmas Marketing Ideas.
Plan and publish your Christmas content from August - it generally takes quite a few months for search engines to find and index new website content, though this does vary depending upon what rankings Google has already given you. So when it comes to publishing Christmas website content, August is a good time to start.
Share postage dates from October - international cut off postal dates start from around mid November, so pre warning your audience that these are coming up helps them to plan their purchases. For customers who missed the cut off, remind them that they can purchase gift cards from you to email instead.
Offer free gift wrapping from November - help your customers take something else off their to-do list by wrapping the gifts they purchase from your store for free. You could even include a card with their personal message and arrange delivery to the recipient too.
Designing & Uploading Christmas Website Graphics
Whether your logo has a Santa hat on, or you've added some tinsel and sparkly lights to your website banner, Christmas themed graphics can help remind visitors of the approaching holidays. If you are using the services of a graphic designer, get in touch and book your spot for early November. Otherwise, there are several online tools you can use to sparkle some magic around your website: Canva, Snappa, Easil, Pixlr and Stencil.
We've put together a short video demonstrating how to add Christmas theming to your website banner using Canva, and then replace your original with your Christmas themed banner on your website.
Free Christmas Stock Images for Your Website
With plenty of free stock image sites, it's relatively easy to find Christmas themed stock images. One of the key problems many New Zealand businesses face though, is the majority of images are created for the northern hemisphere.
We've found a list of 21 free summer themed Christmas stock images over on the Business Networking NZ website which are worth checking out. As well as their visual list of images, they've also share the stock image website where they are from, making it easy for you to download the ones you want for your website and social media accounts.
Using a Christmas Themed Lead Magnet
Lead magnets are designed to help you grow your email marketing list. With an expected increase in traffic over the holiday period, including from visitors who are just being introduced to your business, it's a great time to capture their details for future marketing purposes. An effective lead magnet requires you to show your audience your expertise, solve one or more of their problems, is valuable, instant and relevant.
Examples of irresistible Christmas themed lead magnets you could use are holiday meal planners, Christmas recipes or free shipping in the lead up to the 25. For even more examples, along with information about adding a lead magnet page to your website and tools to use when creating your lead magnet, make sure you check out our guide to holiday lead magnets.
Should I Take My Website Offline for the Holidays?
No.
Taking your website offline can mean you loose all of the hard work you have done in helping it to rank well in search engine result pages (SERP). When a website is live, it can be indexed and reviewed by search engines. When it is offline, it isn't. Also, when offline a website will not show on any SERPs, meaning you will need to start from the beginning again in your SEO journey.
So, What Can I Do with My Website When I'm Away?
When it's time to take a holiday, there are a few SEO friendly things you can do to your website. They are:
Remove the BUY buttons from your website. This stops people from ordering anything!
Disable your checkout page, so manual orders cannot be placed.
Let people order from your website, but have prominent text on the checkout and cart pages that orders won't be shipped until a set date.
Change your website header to announce that sales cannot be placed between specific dates.
Add a short paragraph to your Terms and Conditions or FAQ page saying that orders cannot be placed until a certain date. Or that orders can be made, but they won't be shipped until a set date.
For more great ideas on getting your website ready for the holidays, check out the article
Using Pinterest to Boost Your Christmas Sales
,
25 Effective Christmas Marketing Ideas
and
Writing Seasonal Website Content.