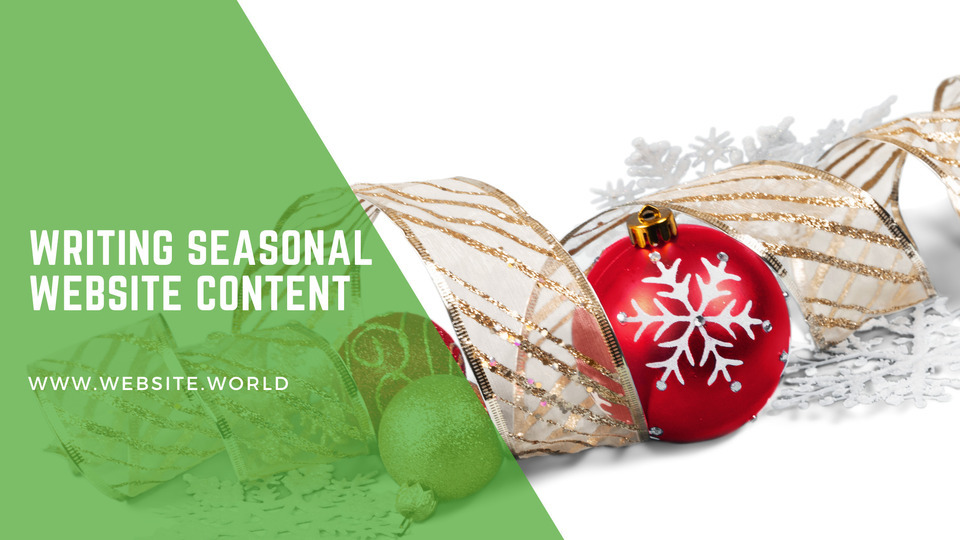 Seasonal website content is based around a specific holiday or event, such as Christmas, Easter and Black Friday, as well as topics and trends. While it may seem counter intuitive to have web content that is only appropriate for specific parts of the year, the benefits to creating a seasonal content strategy are enormous.
It needs to be done right though, to not detract from your evergreen content and that's one of the areas we'll focus on. We will also explain further on what seasonal website content is, the differences between evergreen and seasonal content and how to write high performing seasonal copy.
What is Seasonal Web Content?
Seasonal content is based upon a special event, season or holiday. The goal of it is to engage with your audience, attract their attention and promote more sales during each individual season. Like other content, it should be related to your business and or industry, provide useful, interesting and entertaining content for your audience.
The benefits of creating content for special events and holidays include:
topical and engaging content - reading the same types of content all year round gets boring. By offering themed seasonal copy, you are making things interesting for your audience at a specific time they'll be looking for it.
staying relevant -your audience wants content which is relevant to the current time period, and providing them with it makes your website relevant to them.
product or service promotions - you can share with your audience the benefits that your specific product or service can offer them during this time.
raises higher demand - products that have been promoted as being suitable for specific seasons are likely to be in higher demand than those that are not.
In comparison, evergreen content is content that is relevant all of the time. Not dependent on seasons, events, or what is happening around the world, it is timeless. You also should have evergreen website content. This is useful at providing regular and sustainable traffic, domain authority and brand presence.
Writing High Performing Seasonal Content for Your Website
There are plenty of places on your website that you can add seasonal content: meta descriptions to blogs, product descriptions to landing pages, and even your graphics. While you can simply edit your existing content each season, it is better to add new pages and product descriptions. Doing so provides additional content that can be found, ranked and displayed by search engines. Like other website content, there are some key guidelines to follow when creating it, including:
make a content plan - search engines take many months to index and rank content. If you want to be found by Christmas, consider writing it in June! Having a plan of topics and products to write about is useful and helps you stay on track.
write for your audience, not Google - your target audience are the ones who will be buying your products or services. While it is important to keep SEO page ranking factors in mind, they should not dictate your words.
menu linking - it can be useful to temporarily link from your menu or home page your seasonal content to help visitors find it easily.
revise annually - make sure you check your seasonal content each year and update when required. This is especially true if you have included dates and products, as things do change over time.
go visual - Christmas and Easter in particular are highly visual seasons. Make your content highly visual using lots of seasonal graphics and photos.
seasonal social proof - customers like to know what other customers think, and having topic that relates to the event is even better!
keyword focuses - make sure you do regular keyword research to know what the seasonal words and phrases your audience will use to find your content.
Next, we've put together a list of suggestions of the types of seasonal content you might want to add to your website.
Seasonal Website Content Ideas
Keeping in mind that content on your website needs to provide useful information and entertainment to your visitors, and not just sell, sell, sell; here are our ideas for some holiday website content:
Recipes - bring out Grandma's mince pie recipe and share it! What about making a list of the most popular recipes of your customers, and asking people to vote for their favourite in the blog comments?
Competitions - set up a competition where visitors need to find a list of things throughout your website, then filling in a form with their answers to enter. You get the traffic, product awareness and their email addresses!
Videos - videos are very popular, but they do take up a lot of website file space. Make sure you host them on YouTube or Vimeo, rather than uploading them to your site, and use our video snippet box to let visitors watch the video on your website. There are plenty of online video editing software options that you can use to help add seasonal graphics to your videos.
Trends and expectations - what is going to be popular next year? What have customers been buying this Christmas? What's the hottest product? People love to know what others are buying and to stay on trend.
Gift guides - gift guides which make recommendations of gifts for specific groups are very popular and make gift shopping much easier.
Photos - ask your customers to share seasonal themed photos with you, or share those of you, your family and workplace. Remember to add text as Google 'doesn't read images!'
Product reviews - be sure to use any reviews or testimonials you recieve which discuss seasonal products or use seasonal wordings.
Holiday hacks - the holidays can be very hectic. Share your top tips on reducing stress, cooking, planning and other relevant hacks!
Festive calls to action - temporarily change relevant calls to action with festive themed ones. This could be super fun to do all over your website.
Behind the scenes - what's happening within the business during this time of the year? Lots of photos, funny happenings and jokes are welcome.
Holiday flashbacks - what was Christmas like for you last year? What was the most popular recipe? Share details of events gone by, including traditions.
Make sure you take a read of the article 25 Effective Christmas Marketing Ideas for suggestions on how to get noticed and remembered by your audience during the holiday season!