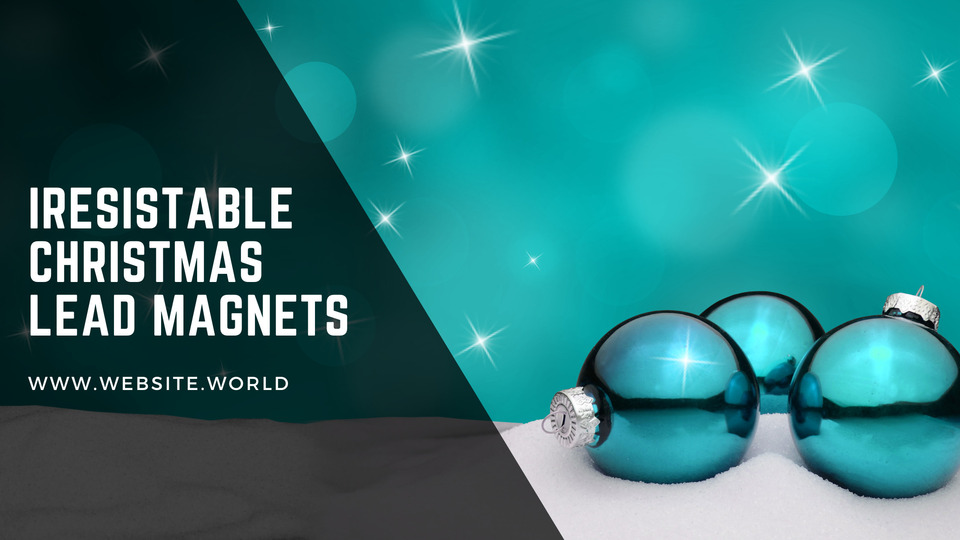 Christmas lead magnets are a great way to gain new email subscribers during the festive months. Many eCommerce businesses experience an increase in traffic from visitors looking for Christmas presents, and a lead magnet lets you capture their details in exchange for something they value. While there is nothing technically different between a Christmas themed and a regular lead magnet, one which is tailored to the holidays is more likely to receive a positive response than one which isn't.
An effective lead magnet is one which demonstrates your expertise, solves a problem, provides value, is instant and relevant. We've put together some examples of irresistible Christmas themed lead magnets you too could use, along with details of tools you could make them with.
9 Effective Christmas Lead Magnet Ideas
With Christmas just around the corner, it's time to create a themed lead magnet to capture those visitor contact details. Here is our pick of the nine most irresistible Christmas themed lead magnets:
Christmas recipes - food is always popular at this time of the year. Share your favourite and old family recipes, helping your visitors feel a sense of belonging with you and your business. "From our kitchen to yours" or From our family to yours" are good phrases to use. You could use Canva to create a downloadable file, and remember to include lots of photos!
Christmas stock photos - gorgeous photos are everywhere at Christmas, whether they are promoting events or products, or simply 'setting the mood.' Many people like to use Christmas photos on cards they make or on social media. Make things easy for them by curating groups of themed stock photos. You could add a screenshot of the photo and a link to the original in a Google Docs file, and organise them into groups such as Christmas cooking photos, Santa photos and Tree photos. With everyone pressed for time during these months, being able to save time and get something you want is irresistible!
Christmas templates - what type of template would make life easier for your target audience? A checklist of tasks to do on Christmas Eve, or a list of closing dates for postage along with links to courier companies? How about a Christmas card template in Canva they can edit and then download to send to their friends?
Holiday meal planner - ever felt flustered about what to serve up to your relatives on Christmas Day? Well, your customers have felt this too! Provide them with a meal planner which includes a grocery shopping list, steps required for each cooking task and menu suggestions to make life just that bit easier.
Colouring in pictures - ask any parent and they'll tell you that kids get absolutely crazy in the lead up to Christmas. Give these parents, your customers, some peace and quiet by providing them with downloadable Christmas themed colouring in pictures and printable crafts for the kids to do.
DIY gift instructions - many people enjoy making their own presents to give to others. Offer a helping hand with an instructional video which demonstrates how to make one or more popular gifts. Especially great if you sell any of the materials they'll need to make the gift. Remember to wear your Santa hat in the video!
Wellness tracker - remember those New Year resolutions? It might not be January yet, but your customers are likely to be thinking about making some goals to improve their health and wellbeing. Give them a downloadable tracker with areas for their goals, priorities and mood.
Discount or free shipping - always a popular one, offer a discount code or free shipping in return for a visitor's contact details. This also has the added advantage of encouraging a purchase to be made quickly by the visitor too.
Calendar for next year - who doesn't need a calendar for the New Year? Especially one which includes all of the important information they need and is editable. As for what information to have on it, remind yourself of the reasons why they visit your store in the first place. For instance, a fitness clothing store calendar could feature motivational quotes, while a child's clothing school features school holiday dates.
Tools for Making Christmas Lead Magnets
Once you've decided upon the type of lead magnet to use, next you'll need to create it. Being a downloadable product, you will need to provide it either in a format that is easy to email and open, or on a hidden page, for example, which you provide a special link or login to. The tools you use will vary according to your chosen lead magnet type, but could include one or more of the following:
Canva - with both free and paid versions, Canva can help you create downloadable images, presentations, documents and digital magazines.
PowerPoint - if you are hosting a webinar, PowerPoint can be a good way to share your message upon. You can also provide file access or screenshots of the presentation too.
Google Drive - there's no limit to what you could share via Google Drive. Lists with links, videos, audios, drawings, images, spreadsheets, folders, tables and forms are just some of the file options.
Camtasia - a paid video creation and editing software, Camtasia is relatively easy to use and provides a high quality result to share on social media, your website or as a file.
Pixabay - Pixabay has both free and paid memberships, and is a great place to hunt for those stock photos to share as a list with your audience. It is also great for finding those Christmas images to use on social media and your website.
Biteable - an online video making tool, Biteable helps you create on brand videos to share. Limited free, plus paid versions are available.
Zoom - running a webinar? Then you need Zoom. Easy to use, the free version gives you 40 minutes and 100 attendees, with the paid version much more.
Promoting Your Lead Magnet
The absolute best place to promote your lead magnet is on your website using a lead magnet page or landing page. Our article Landing Page Optimisation takes you through the different types of landing pages and how to optimise it for maximum benefit. Our article What are Lead Magnets discusses these more in detail, including giving 27 ideas for lead magnets you can create. When it comes to using a lead magnet on your website, this video will walk you through how to add a lead magnet page, a call to action, thank you page text and an email response.