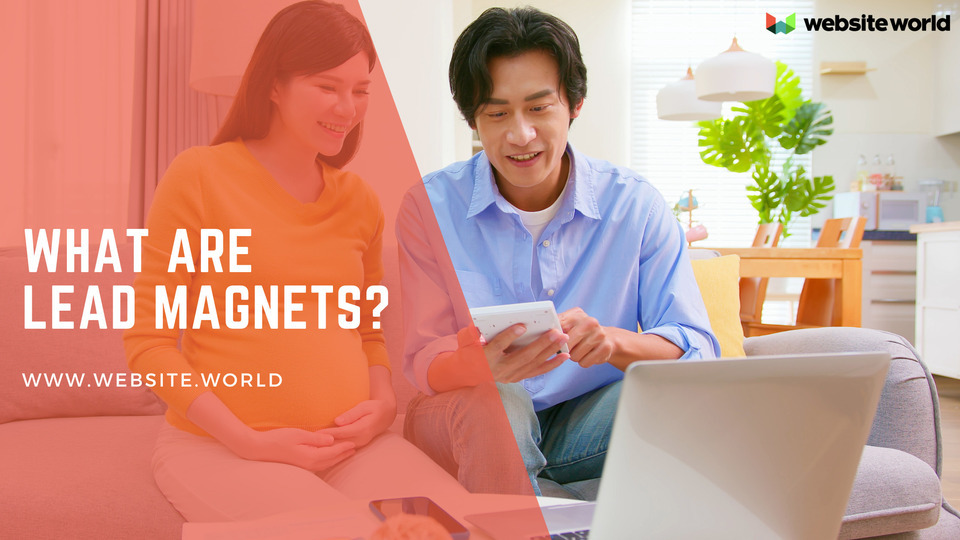 Offering lead magnets on your website is a fabulous way to establish and grow relationships with your audience. In this article, we will walk you through what are lead magnets, the benefits they can provide, characteristics of successful lead magnets, 27 ideas for lead magnets and how to use lead magnets within your website.
Lead magnets are exchanges of content, where you offer your website visitors an exclusive piece of information in return for their contact details. Many visitors find the lure of something free enough for them to give you their email address, which you then use to develop a positive relationship with them, leading to a sale.
A lead magnet can be on any page of a website, though are usually offered on landing pages. A win-win offer, the visitor receives something they perceive as valuable, and the business gets those valuable email addresses!
What Are the Benefits of Using Lead Magnets?
There are seven key benefits that a lead magnet can offer your business:
Growing your email database - this would be the major goal and benefit that lead magnets provide. You can then use these contact details to further target your audience and grow a positive relationship with them.
Showing your expertise - lead magnets can help with establishing yourself and your business as an industry expert.
Building authority - you can grow to become the online authority within your niche, and the go-to business for your contacts.
Developing trust - a lead magnet gives the visitor an opportunity to try something from your business without cost. It's a way for them to learn more about your brand before they becoming a paying customer.
Staying front of mind - visitors don't stay on your website for long, but you have given them something to take away and remember. Great brand awareness!
Ongoing relationships - you have the opportunity to continue the relationship that has began thanks to the exchange of your lead magnet and their email address. Automated emails are fabulous for this.
Creating reciprocity - a visitor who has received something valuable from you for free is more likely to become a paying customer in the future than someone who hasn't.
As for what a successful lead magnet contains and looks like, let's explore this next.
Characteristics of a Good Lead Magnet
Most importantly, a successful lead magnet is one that the visitor actually wants. A cost effective marketing tool, lead magnets should also:
demonstrate your expertise - as a lead magnet is often an introduction to your business for the visitor, it is important that you use it to demonstrate your industry expertise and authority. You can use it to share your unique selling point too.
provide value to the visitor - it may be free, but your lead magnet must be of the same high quality as a paid version would be. The visitor needs to believe that it is highly valuable and that they would benefit from receiving it.
be relevant and very specific - your lead magnet must be super focused on something specific, as this will have a higher conversion rate. It also needs to be relevant to what your business is selling.
provide instant gratification - an instant download or automated email with downloadable link or file is required. People love instant gratification and will want to access the lead magnet immediately after sign up.
solve a real problem - just like a product or service, your lead magnet should solve a problem that your target customer has.
Next we'll dive into 27 lead magnet ideas to consider for your website.
27 Ideas for Lead Magnets
Now comes the time when you need to choose which lead magnets you will create and then use to grow your email business list.
Here are 27 examples of lead magnets you could offer on your website:
eBooks - an oldie, but a goodie. eBooks can be made and offered in a PDF format, and provide specific and actionable ideas for the reader. You can show your expertise without being a salesperson, providing in depth answers
Case studies - case studies provide social proof to others on the experiences of customers who have used your product or service. They explain the problem the customers had and their stories of how your offerings save the day.
Reports - reports or guides are a way you can offer significant value because they are in-depth pieces of specific information a visitor can use.
Courses - a step by step instructional course, a video course, or even a live demonstration course all make great lead magnets.
Resources - a list of resources available from your business or others is useful, as can be a toolkit explaining what you need and how to make a DIY craft kit.
Checklists - easy to digest, a checklist is a useful tool someone can quickly use to achieve something they want to do.
Tickets - if you hosting an event, such as a coffee morning or a viewing of a new collection instore, offering free tickets helps get you email contact details and customers instore.
Templates - these could be planning, blog or even diary templates that someone can edit digitally, or print and fill in manually.
Facebook group - the community aspect of belonging to a Facebook group is seen as very valuable by many, especially if the person or business behind the group regularly provides information for and engagement with the members.
Swipe file - a swipe file contains content that the recipient can instantly use as their own, such as social media post headings.
Script - providing a script someone can personalise and use to create their own video or use to promote themselves for a job interview is worthwhile.
Worksheet - ideal to capture leads from teachers and others needing educational advice, a worksheet helps the recipient to learn and master something.
Printable - this could be a planner or such that is filled in manually, or something like quilting patterns which are printed and then cut out, to be placed on fabric when designing a quilt.
Recipes - free recipes are always popular and can be used for a variety of business types, including doctors, chefs, authors, schools, gyms, personal trainers, supermarkets, dieticians etc.
Inspiration file - just like Pinterest but highly specific, an inspirational file contains a collection of imagery, topics or quotes than someone can use to inspire themselves when doing something. A graphic designer could offer a logo inspiration file, for instance.
Tutorials - your tutorial could be a video, a PDF file or a step by step instructional document that teaches someone how to do one specific thing.
Infographic - an infographic has the advantage of showing or educating someone on a specific concept. There's a reason why visuals are so popular, and that they are so easy and attractive to use.
Video - videos are often used as lead magnets. When contact details are provided, access to the video is granted through a website or an automated email containing the video, or a link to it. Including a written transcript with your video gives the opportunity to refer to and search through the content when the video is not playing.
Webinar - swapping email addresses for a link to a live webinar, where people can engage with you is great. Links to scheduled replays of previously recorded webinars are not that well received.
Coaching session - a coaching session gets each individual contact some one on one time with you via phone, chat or video. You demonstrate your skills and experience by helping them, and then promote your offering to the person at the end of the session.
Quiz - interactive quizzes can be seen everywhere, including Facebook, apps and on websites. You can choose whether to grant access to the quiz before they access it, or to access their results, by giving you their email address.
Giveaway - always a goodie, but watch out for 'compers' who enter every competition regardless of what is on offer, just to win something, and do not become customers.
App - a free app or game would be a popular lead magnet, where people need to sign into their account in order to use the app on your website, or elsewhere.
Membership - having a members only accessible area on your website that provides exclusive information, products, offers and other free things is popular, and it gets people coming back to your website to check out what is new. Our content management system gives you the ability to set specific pages of your website as password only, and say who can access these; perfect for member only content.
Free trial - give your visitors a sample of what you are offering with a short free trial of your product or service. This is a wonderful way they can check compatibility with your offering and learn more about it without any financial commitment.
Discount - sweet and simple, the visitor gets a discount to use off their next online purchase, and you receive their email address, even if they choose not to make that purchase.
Free shipping - customers love free shipping, so offer a redeemable code for them to enter upon checkout to get their purchase shipped for free.
Now comes the time when you will need to decide where on your website you will use your lead magnet, and we'll demonstrate how to add it to your website next.
Using Lead Magnets On Your Website
It is easy to create and use a lead magnet on your website. In this video, we will demonstrate how to add a lead magnet page, along with the call to action, thank you page text and email response.
A lead magnet can also be added to a landing page. Check out our article on landing page optimisation and CRO to learn more about the similarities between a landing page and a lead magnet page, plus ideas which can be used to optimise your lead magnet pages too. You can also add a lead magnet to any blog. Simply select the lead magnet tab when editing a blog, and get it all set up.