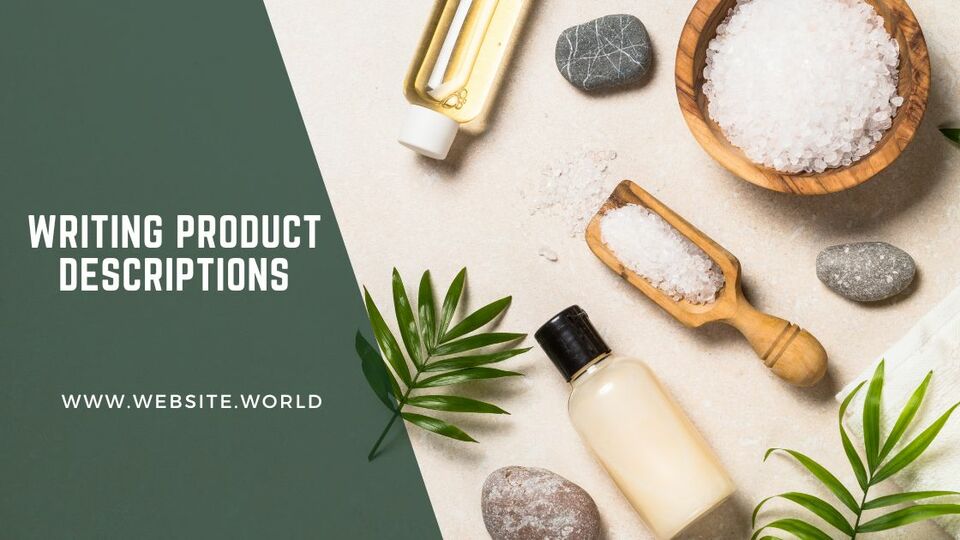 Like all the other pages on your website, your product description provides an opportunity for your website to be found and ranked by search engines. This means that when writing your product description, you need to consider two things: convince the reader to buy your product and it needs to be found by search engines so someone can read it!
It can be a chicken and egg situation in deciding which of these two things you should concentrate on first, so today we're explaining how to do both - at the same time! We're also going to list the characteristics a great product description has, plus explain how to write high converting product descriptions.
What Makes a Great Product Description?
A product description needs to gives the customer enough compelling information and photographs for them to want to buy it immediately. Inside a great product description, you will find:
reasons why the customer needs the product
how the product solves the customer's problem
information on the product's features
the benefits the product provides the customer
great photos showing the product
headings and sub headings
easy to read text
the product's sizes, colours, shapes, weight and any other characteristics
A great product description is also specifically written for your target audience. That means you need to know who will be buying your product. This helps you include all the information they need to make a decision, use the right type of language and the best product photos. Let's take a look at further tips on writing your product description.
Tips on Writing a Product Description Which Sells
You know the things you should ideally include inside your product description. We say ideally, because it's not always possible to include them all, every time. Just aim for as many as you can and you'll do great! Now that you're ready to start writing, here's what you've got to do:
Know your customer - called your buyer persona, you really need to understand the person who is going to buy your product before you can begin to write the description for it. This includes things such as their age, gender, interests, budget, likes and dislikes, where they live, if they are buying it for themselves or someone else and what problems they have that your product will solve for them. This knowledge will help you know which words and type of language to use in your description.
Know your product - if you aren't convinced it is the best thing since sliced bread, how will you sell it? This means you need to know inside out the features and benefits of your product. You must be able to accurately describe how the product will make life better or easier for the customer and explain why they need to buy your product and not your competitor's. Use your insider knowledge of your buyer persona to tailor the benefits to your customer.
Use your brand voice - you've worked hard to create a great brand people recognise and love. Your product descriptions need to continue to use your brand's voice in the words you use and the way the web page looks. If suddenly your description doesn't reflect what your customer already knows about you, they'll be confused and unlikely to purchase your product immediately.
Use bullet points - bullet points make scanning a web page easy. Yes, you're going to spend a long time writing a great description, but the truth is that not everyone will ready the whole thing. Instead they will read the bits which are pertinent to them. Using bullet points helps you direct their eye to the important stuff.
Use SEO - search engine optimisation are the things you do to help your product description be found and ranked well by search engines like Google. The easiest way to do this is by using on page SEO, which includes things such as your meta tags, keywords, headings, image names and the text you write in your product description. Keep reading down for more specifics on how to do this.
Use great photos - a picture paints a thousand words - so what's a bad photo going to do when selling your product? Nothing. If you are reselling a product someone else has made, they may provide you with photos of it. Use your own judgement as to whether you think they portray the product in it's best light or not. Often you'll find a photo of the product in use makes more sales than one on a white background. Take a read of our article How Great Website Product Photography Can Raise Your Sales for more information and tips on taking awesome product photos!
How to Actually Write Your Product Description
You know what's got to be in it and read the tips about writing a product description. Now it's time to actually write it and we're going to explain how to do just that, step by step.
Find your product keyword. This could be the brand name of the product or a description of it. The perfect keyword would ideally have a lot of people searching for it, but not a lot of websites trying to rank with it.
Write an attention grabbing title which is short and to the point. Make it unique and descriptive. Include your keyword in the title. It looks best if you use a capital letter for the first word in the title like this: Blue Baby Shoes for Newborns.
Write the introductory paragraph. It's here you need to grab your customer's attention by explaining to them the major benefit to them of using it. use your keyword once in it.
Write the middle paragraph. Here's a good place to use bullet points to explain the features and additional benefits of using the product. This can also include information about how the product works, what it looks like and it's unique features. Don't forget to use your keyword once in this too!
Write the final paragraph. If they've made it this far, chances are your customer is interested in buying your product. This paragraph seals the deal by summing up the major reasons why they need it and giving them a call to action or CTA. The call to action tells them what to do next, which is to buy the product, so make sure you tell them to do just that. Yup, you also need to include your keyword in this paragraph too.
Write the meta description. This is the blurb which shows up on the search engine results pages. Aim for it to be around 150 characters (letters and spaces), include your keyword and a call to action. You need to explain why people should click through to learn more about your product.
How to Write a Product Description Which is Found By Google
Your final job is to make sure that the description you've written is optimised well for SEO, particularly on page SEO. Well, chances are if you've followed the step by step guide to writing your product description, you've already done it! But just to make sure, let's look at the on page SEO things which should have been included:
keyword - aim to have it make up around 1.5% of the total text you use on that page. Include the keyword in your heading, meta description and body of text.
meta tags - these include the page filename or URL end piece, your meta description and your page heading. Take a read of our article How to Optimise Your Web Pages Meta Tags to learn more about using these.
photo filenames - Google can't 'read' images, only text. If you save your product photos with meaningless letters or numbers, it does nothing to help that product. For instance, save a photo with a name like blue-woollen-baby-booties.jpg and not 122323.jpg.
100% unique - don't copy someone else's product description from their website, or even use the one provided by your product supplier. Write your own!