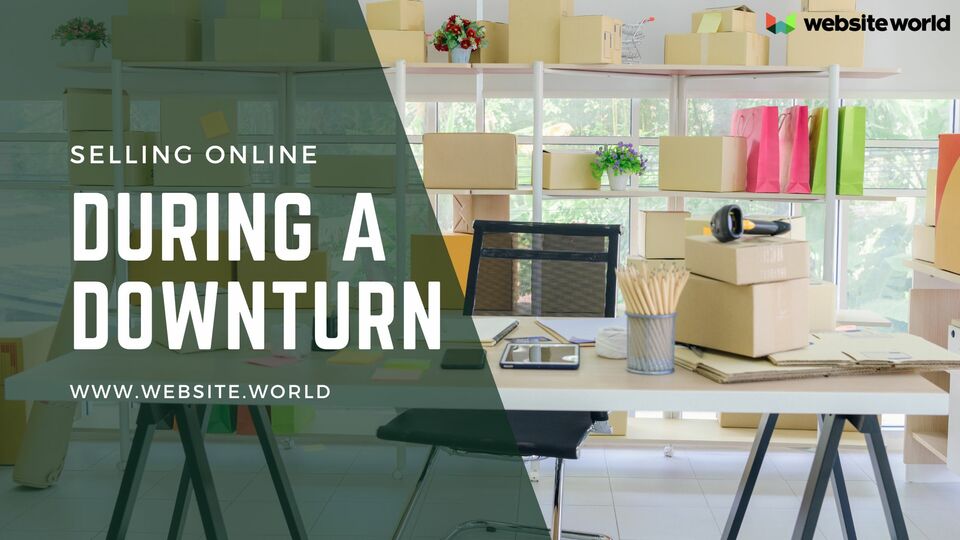 If a pandemic wasn't enough, along comes inflation and an economic downturn. Prices are rising, yet incomes are not, resulting in people tightening their belts and limiting their purchases. As an online retailer, unless you have a physical store and staff, your business' overheads are likely to be lower. While this does give you an advantage, if people aren't shopping online, there's no income coming in.
The good news is though, that when selling online during a downturn, you have at your fingertips a number of tools you can use to promote your business, grow a loyal customer base and increase sales.
Selling Successfully Online During a Downturn
Customers are making fewer and smaller orders, and are more often visiting different websites to find the best prices before buying. As an online retailer, you obviously want them to visit and buy through your shop, but how can you encourage this?
There are plenty of things you can do to remain viable in an economic downturn, and without lowering your prices! These include:
Revisit your business plan - read through your existing business plan, identifying things that are and aren't working. Check up on your target audience to be certain they are still using the same social platforms and wanting the same products from you. Do you need to have so much stock on hand, or could you let customers place orders in advance, and you order stock only when necessary? Shout your core message from the roof tops!
Revamp your website - now is a great time to take apart your website with a fine tooth comb. Does it need a new theme template? Could you replace old images with more attractive ones? How can you improve the customer journey, from the page they arrive through to a successful purchase? Take a read of our web design articles for suggestions, including How to Check the UX of Your Website and Increase Sales By Giving Your Product Pages a Makeover.
Assess your product ranges - analyse the sales of your product ranges. Which ones sell fast and which ones are just sitting on the shelf? Could you add new products or redesign existing ones? Do you need to switch focus and sell products from a different niche?
Raise your customer service - provide your customers with even better service than before! Collect feedback from customers about what they like and don't like, and create new initiatives to boost brand loyalty.
Create a great shopping experience - how can you improve the shopping experience of customers on your site? Do you need a chat box or bot, fewer steps to the checkout, or offering more personal service via text, email or phone?
Grow brand recognition - spend time online promoting your brand. Social media and blog writing are great ways to get noticed. Be sure to follow your branding guidelines to ensure consistency wherever you post.
Adapt new selling strategies - could you start offering a subscription based product? What about using different payment gateways such as Laybuy, which split payments up for your customers?
Create business promotions - can you team up with a non-competition business and promote each other? Maybe stock some of each other's products on your websites and share information with your audience about them?
Marketing Tools for Online Stores During a Downturn
When a downturn hits, it can be very tempting to pull the plug on your marketing efforts, be them costly in terms of money or time. However, marketing is something that should always be kept going! While these are not recession specific, are some suggestions for marketing tools you could use to promote your business and get more website traffic:
Use landing pages - landing pages are specific pages on a website which are designed to promote one thing, usually a product for sale. The URL for the landing page is then shared with your target audience, usually through social media or a newsletter. The landing page is highly targeted to walk the buyer through all of the product benefits, share testimonials and make the sale, all on the same page.
Use consistent branding - your brand is one of your most important resources, and to use it successfully, it must be used consistently. If you have not got a brand guide, then create your own. It should include information about colours, fonts, tone of voice and all images, and state what is to be used where and when.
Improve your website's on page SEO - putting in the effort to improve your website content is a great investment of your time! Following the principles of good SEO, add original and high quality content that is relevant to your audience. Take a read through our SEO resources for specifics on DIY SEO. Also, take a read of our article Why SEO is Important During a Recession too!
Start a blog - think of each article or blog on your website as like an advertisement that is working for you 24/7. While the aim of a blog article is to provide entertainment and educational content to your audience, it can include a small call to action.
Get even more active on social media - start getting noticed and building relationships with your customers on social media. Provide them with interesting and useful content they will want to seek out. This is a great time to build a rapport with them, growing their brand loyalty, so they will come and see you first when they want to make a purchase.
Focus on existing customers - it is easier to retain customers that it is to get new ones. Continue to build upon their brand loyalty by keeping in touch and reaching out to see if you can help them with anything.
Grow your email list - email marketing specifically targets the people who have signed up to your email list. Depending which bulk emailer you are using, it is a free or low cost way of sharing information about your products and promoting special offers. You can encourage sign ups by offering something your audience sees as valuable, such as a discount code or a downloadable file.