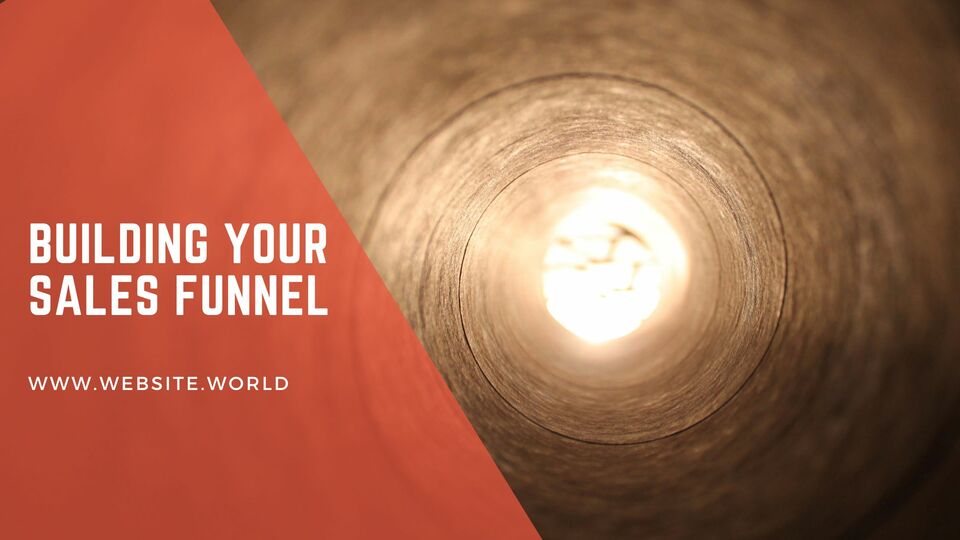 Your customers experience many things on their journey towards placing an order on your website. Can you list the things that they see, do, feel and think? Is it a journey they'd recommend others to take? Or is it so off putting that they've left your website, never to return again?
When you create a sales funnel to send your customers through, you are defining every step of their journey, increasing your website's conversion rate. In this article, we'll discuss the four key stages of a sales funnel, share the reasons why you should be using one, list the steps to take when creating a sales funnel and how to measure success and optimise it.
A sales funnel, also known as a marketing or revenue funnel, is the path your prospective customers take, from their first moment of contact, through to a closed deal. It can be visually thought of as being in the shape of a funnel, with the greatest number of prospects entering the top, with numbers going down as the funnel narrows until the sale is made or lost.
There are four key stages of a sales funnel:
Awareness - the prospects have identified a problem and in searching for a solution, have found the brand. This could be via paid ads, Google search, social media or an email campaign.
Interaction - prospect numbers have dropped, but the likelihood of a successful conversion increases. The prospect will do research to help them decide if this brand can best meet their needs.
Interest - prospect numbers drop further, though those remaining will seek out information from the brand, including asking questions and analysing price and other offerings. If they decide not to buy something, they will exit the funnel here.
Action - action happens here, in the form of a conversion!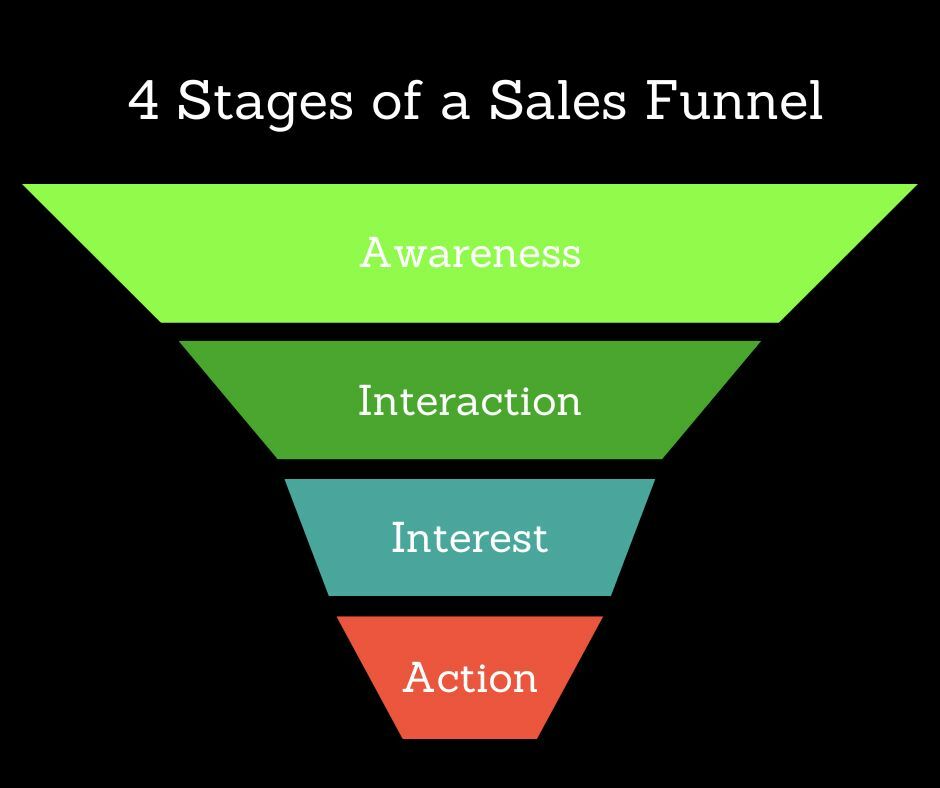 Why You Need a Sales Funnel
A sales funnel is a highly effective marketing tool for all business owners. It helps you create an email list from website visitors that you can nurture and turn into paying customers. The benefits of having one include:
new customers - by having a sales funnel, you take someone from your target audience through a series of steps and into becoming a new customer.
better forecast accuracy - you are able to make a more accurate forecast on future revenue. This then helps you with making budgeting, cashflow and product demand decisions. For example, if you already know that 5% of people who sign up to your mailing list become customers, you can estimate the number of sales based on your sales funnel subscriber email list.
saves you time and effort - once created, a sales funnel is an automated process. Rather than creating multiple types of content, you simply create content once for each stage of the funnel. Of course, you can edit your content at anytime to improve conversion rates.
accurate and timely messages - a sales funnel lets you share the right message at the right time with your potential customer. You control the messages they receive at every stage, educating them about your business and the benefits they will receive by purchasing your products. They'll have information given by you which compels them to take action, such as social proof, product demonstrations and case studies.
To create a sales funnel, you'll need to work through these four main steps:
Understand your customers - spend time collecting data about your target audience. The more you know, the better you can target them, which increases your conversion rates. Collate information about their income, age, gender, location, problems they have tried to solve, their current fears and frustrations, challenges and goals, plus which channels they are most likely to find your business through.
Name your goals - what do you want to receive from your sales funnel? More leads, newsletter sign ups, purchases, phone calls? Clearly identify what you want to receive at each stage of the funnel so you can measure its success. Use these to plot their journey through your funnel.
Plan out each area or stage of the funnel - put it all together now! Make a plan of what you want each stage of the funnel to contain, look like and achieve. At the top, you will be wanting to build brand and product awareness, encourage potential customers to learn more about your offerings and the benefits they can offer them. The middle area of the funnel is where you work on gaining the prospect's trust and clearly showing them why they need your product. At the bottom is where you offer the prospect something valuable to achieve your goals through a call to action. You can use a range of different tools and formats at each stage, such as a landing page, website pop ups, social media, blog posts, newsletters, free trials, videos, case studies and downloads.
Create your funnel - your sales funnel could be a single landing page, or a series of steps to move your prospects through. For example, you could run an advertisement on Facebook introducing your new chocolate bar. Interested prospects click on the link and are brought to your landing page. Here they are offered a 20% discount in return for signing up to your newsletter. An automated email is sent to them a few days later reminding them about the chocolate bar and the discount they can redeem upon purchase. The customer heads to your website and buys the product, and in their purchase confirmation email, you offer them an affiliate code to share with their friends. This code gives the original prospect store credit when their friends also make a purchase, that they can redeem upon their next purchase.
The Website World platform has the tools available for you to use throughout your sales funnel stages, including:
We can migrate your existing website to our platform, including your content and images, while keeping your URL structure and site map the same! Or you can grab yourself a free trial and test out all of our features for yourself!
Measuring the Success of & Optimising Your Sales Funnel
It is important to measure how successful your sales funnel is, and make some tweaks when required to optimise conversion rates. As more prospects arrive and work through your funnel, keep track of the data these visits produce at each stage. Use a range of sales funnel metrics to help you make informed decisions about your next optimisation steps.
Conversion rate - how many of your leads are converting? Your conversion rate is the number of sales divided by the number of leads, multiplied by 100. Aim for a conversion rate of between 3-5%.
Leads - how many new leads are you attracting? How long does it take a lead to move to the next stage of the funnel? Are your leads getting stuck at a certain stage? Where are your leads coming from?
Acquisition costs - calculate customer acquisition costs by dividing the total acquisition costs by the number of customers, and the lead acquisition cost dividing the total acquisition cost by the number of leads. The lower the costs to you, the better and more profitable your sales funnel is.
Total sales - what is the total amount of revenue achieved within a specific timeframe? Has it covered your costs and provided a profit?
Where to next? Watch our video which shows you how to design a landing page that you can use as part of your sales funnel. You'll also find written step by step instructions to follow too. Or if you'd rather outsource this, we can recommend web designers and copywriters who can create the content and the landing page for you.