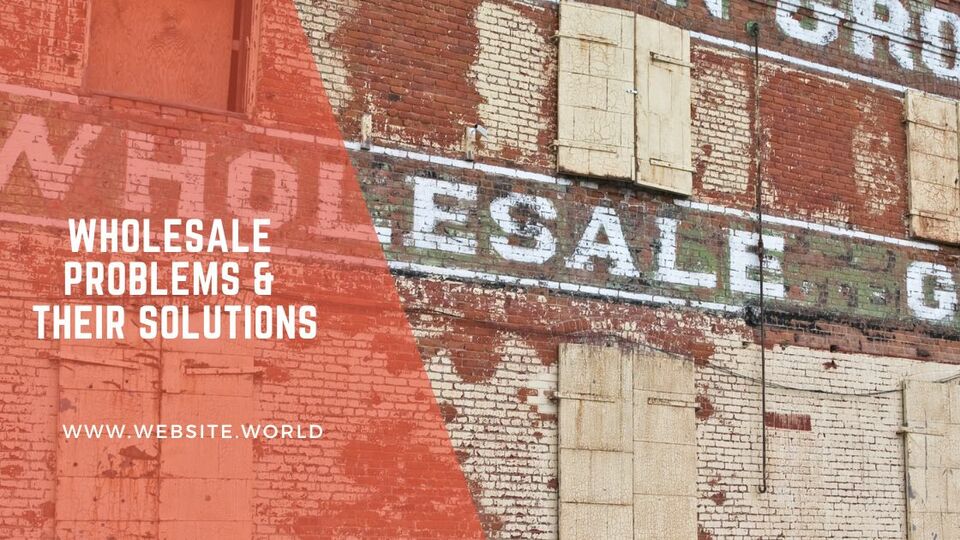 As a wholesale business, your challenges are different from those of retailers. You've got large volumes of stock to keep track of, relationships with new and existing manufacturers to nurture, retailers to communicate with and sell to, and a distribution chain to manage. Finding solutions to these challenges takes time and effort, yet is essential to retain an acceptable profit margin.
Solutions to 5 Common Wholesale Challenges
Here is a list of five common problems wholesalers face, along with suggested solutions:
Inventory management
Managing a large and varied inventory that changes daily is a complex task. You'll be wanting to avoid both product shortages and overstocking to avoid unnecessary costs and associated disruptions to business. Having a reliable and effective inventory management system that integrates with your website is therefore essential. Inventory management software can help you with:
product identification - quickly see what products are old stock so you can take steps to increase sales volumes or make a decision on product discontinuation. You will also know which products are slow moving and fast moving, so you can adjust orders from the manufacturer.
inventory turnover ratio - get details about how frequently inventory is sold, enabling you to better manage retailer demand, reduce required warehouse storage requirements, measure your business' liquidity and reduce likelihood of products becoming outdated.
preventing overselling - overselling can lead to poor relationships with your retailers and costly time needed to communicate with them, and order in products quickly.
reducing costs - inventory management can reduce the amount of money you have sitting in unsold products and avoid unscheduled shipping costs in getting oversold product in for distribution.
Using inventory management software that integrates with your eCommerce website ensures that your retailers are able to place orders for products that both parties know are in stock. Depending upon your chosen software (Website World has its own inbuilt inventory management system, and we also integrate with Unleashed, VendHQ, Tidy Stock, Dear Inventory and others which can be viewed on our API Integrations page.
Supply chain & distribution
As a wholesaler, you are dependent upon the supply chain working as expected. The recent pandemic has clearly demonstrated that a supply chain can be easily disrupted, leading to stock shortages. This makes it essential that having a solid inventory management system operating, along with a list of alternative manufacturers or suppliers you can reach out to very important. Then there is the local distribution chain to factor in too, with bad weather, over subscribed couriers and rising costs all common issues. To reduce the likelihood of supply chain and product distribution issues, you could:
focus on automation - use an inventory management system that can not only manage stock levels, but will provide real-time visibility on stock levels. Automation can also help you forecast when you will need to place additional orders, or not, and even help make predictions based upon factors such as weather reports, online reviews or event updates.
perform in-depth analysis - regularly analysing data, such as from reports prepared by the CMS or your inventory management system, helps to inform your decisions about your supply and distribution performance. You can then implement your decisions promptly to prevent and/or reduce the impact faced by all parties.
build strong lines of communication - having everyone on the same page helps to lessen the likelihood of disgruntled parties. Achieving this will involve establishing and maintaining strong lines of communication between all parties by the wholesaler. Keeping your customers informed and able to access information about stock levels, estimated arrival dates and prices helps them to make decisions regarding their business. Keeping your manufacturers updated about when you require specific stock or if you will be making unusually large orders, lets them prepare at their end. Having an established protocol with your shipping companies helps them to coordinate their resources to fulfil your deliveries seamlessly and keep both wholesaler and customer updated with tracking details.
Competition
All businesses will face competition at some level. There are some large wholesaling brands that are highly visible online, well known and popular such as Amazon and Alibaba. Wholesalers can rely upon retailer networks, word of mouth and referrals too, as well as an online presence. Their visibility success and level of competition will vary due to multiple circumstances, as will yours. To mitigate the results of competition from other wholesalers, you could:
review your pricing policy - it is almost the first instinct of many businesses to drop their pricing when facing competition, but this isn't necessarily what you should do. Instead it is more important to review your pricing strategy and focus your attention upon attracting customers for whom the lowest price isn't their deciding factor.
focus on your point of difference - be clear on what makes your wholesale business stand out above your competition. This could include offering services that they do not, or that you are more efficient in delivering orders.
specialise in a niche - if you haven't already, specialise within a niche. You can then build up not only your highly specific product ranges, but also your knowledge within the industry to see your business as being the go-to niche expert.
Communication
As a wholesaler, communication within your business, between you and your customers and manufacturers, your distribution team and other staff is vital for running a successful operation. Poor communication leads to conflict, poor relationships and ultimately the loss of manufacturers and customers. Key things you can do to ensure positive communication occurs include:
communicate regularly and clearly - use multiple channels to communicate with everyone. This could be through emails, your website, written documentation, phone calls and face to face meetings.
be approachable - ensure that there are multiple ways people can get in contact with you and that these are well known. Be clear about your opening hours and how your prioritise replies to questions and orders.
focus on proactive customer service - don't wait for something to happen before you provide great customer service. Be proactive in anticipating the needs of both the manufacturer and the customer.
use onboarding for staff and customers - have clear written documentation to onboard new parties. This should include details about placing and receiving orders, product information, how to get additional support and be clear on what support you do offer. This isn't a sales pitch, but rather information on how to make working with and within your business simple for everyone.
Technology adaption
Both wholesale and retail industries are in a state of constant change, with technological advancement being one of the biggest. Failure to make the necessary adaptions can lead to having a decreased or nil online presence, reduced order volumes, unwillingness by manufacturers to on-sell and poor communication amongst all parties. While technology is fast moving, keeping yourself updated in the areas specific to your industry is key. This can mean:
targeted pricing to ensure your top wholesale customers get pricing that reflects their spend or regular buying habits. Visit our B2B wholesale and trade pricing page for specific details.

having an eCommerce website that gives you the ability to restrict access to only approved retailers. These retailers can login and view the specific product price tier you have allocated them, place orders and view past orders. Your website can also provide bulk pricing and minimum order quantities for individual products.
communication - keeping your retailers updated with new products, ordering information, product updates and prices is time consuming. Rather than sending individual emails or letters, sending a bulk email to all or targeted groups of retailers is more time and cost effective.
using an integrated inventory management system or software.
product visibility - letting retailers know about your offerings, and even that your wholesaling business exists, is crucial to you business' success. Having a website that showcases your product ranges attracts retailers to your business. They can then make contact with you for further information and purchases.
Having the right tools at your fingertips ensures you can meet the needs of your customers and have a highly efficient wholesaling business. One of the most important tools is having a great eCommerce website that you can control who views specific information and easily integrates with inventory management software, couriers, accounting software and multiple payment gateways.
If you would like to learn more about how we can fully migrate your existing website over to our platform or custom build you a new site, please contact our NZ based support team today. You are also welcome to sign up for a free trial to experience our fully customisable platform yourself.
Posted: Thursday 11 May 2023