Integrate our shopping cart with TidyStock inventory management system, to provide B2B and B2C (trade and retail) eCommerce facilities for your business.
Inventory data is synced from TidyStock on an hourly basis, to ensure an up to date stock count online.
Up to 9 pricing tiers included, 1 for RRP, and 8 customer groups.
First 3 quantity price breaks automatically synced. (eg buy 10+ for discounted price)
Customer data from TidyStock is synced, to enable your customers to login, or receive monthly newsletters using our integrated bulk emailer.
Orders from our ecommerce platform are synced to TidyStock to be recorded and managed thereafter.
TidyStock helps accurately track your stock at every stage of your supply chain. TidyStock provides clear, real-time information about the inventory you handle for enhanced efficiency, improved customer satisfaction and greater profitability. With the power and simplicity of TidyStock, your team are empowered to make confident stock handling and management decisions.
Details of Our Integration
All products can be imported to your shopping cart either by looking up TidyStock categories, or by simply matching product codes to existing products.
Once products are imported, the quantities and pricing will be updated on a regular basis. The speed of updates will depend on how many products you have. We use an advanced algorithm to update regularly changing stock quickly.
Other product details can be updated on a configurable basis.
All website sales will be posted to TidyStock, within minutes, including client data.
Any new products added to the website catalogue, will automatically be added to your TidyStock inventory, if any sale occurs, and this item does not yet exist in TidyStock.
All client data from TidyStock will be automatically imported into the websitebuilder members list, so you can run email campaigns. After the initial sync of data from TidyStock, only new records are added. We do not overwrite data in either database.
New clients will be created in TidyStock on successful sale for a new client.
How to Configure Website World and TidyStock To Work Together
First create a website trial, if you haven't got a website with us already
Add a shopping page, if your trial didn't include one.
Click the Shopping Tab from top menu, then scroll down to click API Integrations
Scroll down and select "TidyStock"
Enter your Store URL and API Key. To get the API Key, in your Tidy Stock application go to ........ If you need assistance, contact sales@tidyint.com
Submit that form to validate these details are correct, then enter your remaining configuration details.
Synchronisation buttons are provided for linking existing products to your TidyStock product list, by product code.
You can use the "Import Products" button to select categories of products from your TidyStock account to import. This step is completed one category at a time (or individual products)
All possible information is imported with new products. However, when we sync products, we only update the information you specify in your configuration.
Newly imported products have an unlimited stock position. This is to speed up the importation process. The correct stock position will be linked when the product automatically syncs.
We provide a configuration area for you to match your pricing tiers to our pricing groups.
If selected, all web sales will be posted to TidyStock within minutes of an item being ordered.
Automatic synchronisation of stock levels, prices and other configurable elements, will only occur if you have a live/paying status website and are using the associated plugin. Please login to the CMS to see this plugin fee in your own CCY.
You can manually sync the quantities and other information via the appropriate buttons on the API screen. Please note that large databases may be paginated requiring several clicks to get a full sync.
TidyStock API Setup Screen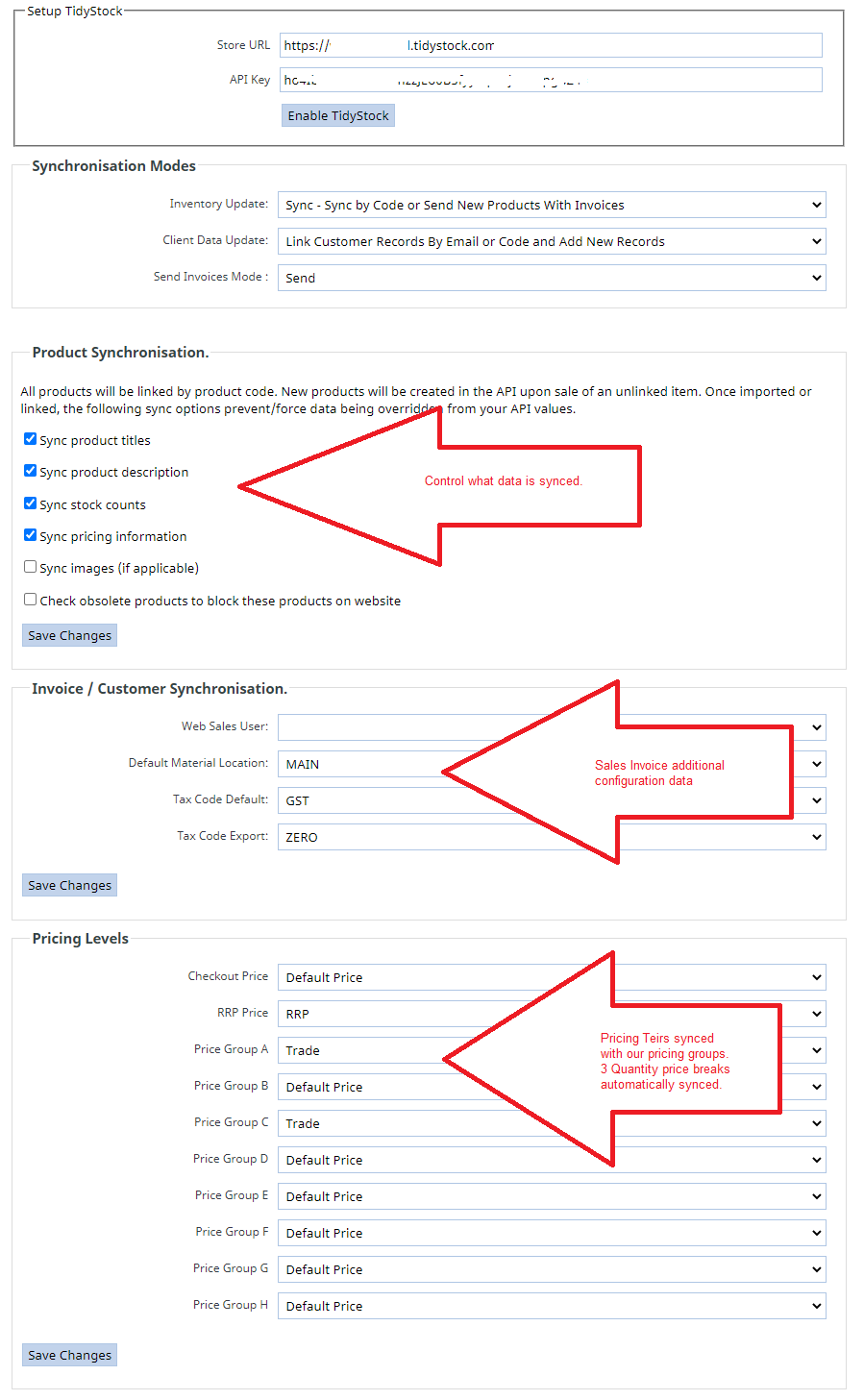 To use the Tidy Stock API, there is a fee. Please login to the CMS to see this fee in your own CCY.