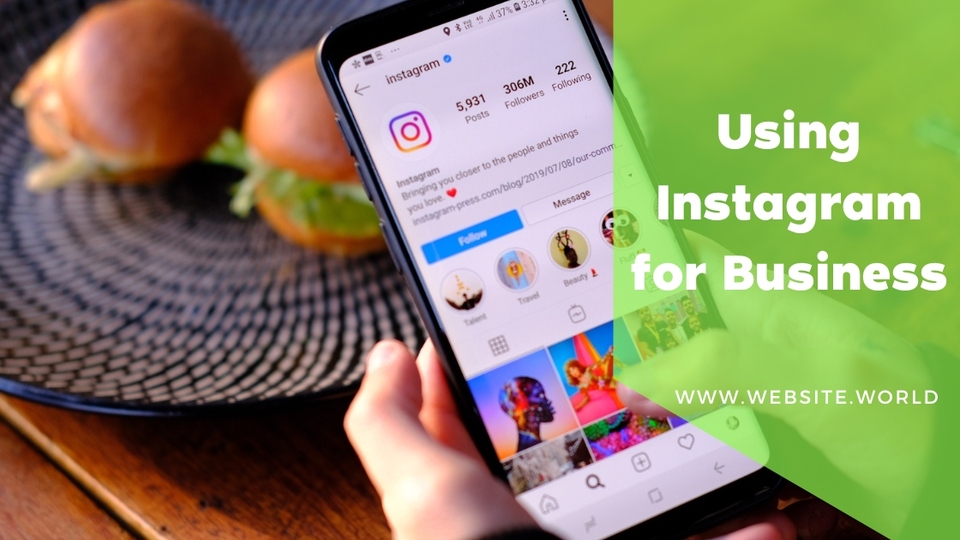 Instagram is one of the world's most popular social media platforms. With a focus on photos, it is ideal for showcasing a business' products or services to a wide audience. Using Instagram for business marketing can be incredibly effective because:
200 million plus people visit an Instagram profile at least once per day
60% of people say that they learn about new products on Instagram
1/3 of the most viewed Instagram stories are from businesses
6 in 10 adults have an Instagram account
over 80% of Instagram accounts follow at least one business
over 500 million Instagram accounts are active on a daily basis
In this article, we're going to explain more about what Instagram is and how to use it effectively as a tool to drive traffic to your business website.
Introduction to Using Instagram for Business
Since its introduction in 2010, Instagram has quickly grown to one of the world's favourite social media platforms. Building influence on Instagram (by getting followers, getting likes and then getting comments) results in an increase in visibility and customer loyalty.
As a business, you can use Instagram to:
reach a new range of followers
encourage followers to visit your website
run competitions
sell products through Instagram Shopping
tell your brand story
increase your online visibility and customer loyalty
It's free to set up and use Instagram for business. Just remember that as Instagram is a photo based platform, most of your posting will be done via a smartphone. Rather than have us walk you through setting up an account, we'll leave that to Instagram itself: their instructions can be seen on their website.
You'll next need to set up a business profile. It's important that you choose a business profile and not a personal profile. This is because it offers you business owner tools, plus the ability to link it to your business' Facebook page. Instagram has a handy video to watch demonstrating how to set up this profile.
Once your profile is up and running, then comes the fun part of creating content to share. As a visual platform, your content needs to be attractive, follow your branding rules, be creative and be unique.
Creating Content for Instagram
Like with other social media platforms, one of the hardest things is the creation of regular content to share with followers. Videos, graphics and photos are easily uploaded to a business account. The issue is though, what they should contain! You have a few types to consider:
Custom imagery - photos you stage to showcase your products or services. Flat lays come into this category.
Selfies - a brand built around photos of yourself and your team can help increase followers and engagement. Customers always want to know what you are doing and it helps them build a rapport with you.
Stock images - sometimes you may not have any photos to share, so in this case can use a variety of stock images, such as from Unsplash or Pexels.
Graphics - from quotes to memes, graphics are always a popular post on Instagram
Then once you've decided on an image strategy, it's time to start snapping photos with your phone. The Huffington Post asked a group of Instagram pros for their tips on taking great photos, and here are a few of them we felt would be useful to share with you:
make a plan of what you want your feed to look and be like - then follow it!
use natural light where possible
have a clear point of interest in every photo
shoot photos at different angles
use props
remember to use white space
get up close and personal with your subjects
take the time to set up your photo - quality over quantity
avoid overexposing your photos
follow the rule of thirds - you can turn on your phone's grid feature to do this
As to what your graphics, videos and photo subjects should be, here's a few ideas to get your creative juices flowing:
product photos
behind the scenes
repost user generated content
employees or yourself!
seasonal posts
quotes
local events
video tutorials
inspirational images
project ideas
stop motion video
flat lay of what's in your bag
meals you are eating
your outfit
coffee or cafe outing
DIY projects
sneak peeks
pets
outdoors
books you've read
How often you post on Instagram is up to you. Once a day, three times a week: whatever works for your business and target market is your best option.
Using Hashtags On Instagram
There's one more thing which a beginner to using Instagram for business must know, and that's hashtags. Hashtags (or #hashtags) help make your content easily discoverable by people you are not even targeting. They are a way of organising photos and images into similar groups. Used by Instagrammers to find and share content of a similar topic, an effective hashtag strategy is a must to get your posts out in front of new followers. Your business profile will let you analyse the effectiveness of the hashtags you have used, including details of the number of impressions, reach and how people found you.
There are three kinds of hashtags you can use:
branded hashtags - a hashtag unique to your business, such as your name, tagline, product or brand identity.
community hashtags - help to build a sense of community by using a specific hashtag. They are more general and unrelated to your company.
campaign hashtags - designed to be short lived, campaign hashtags are for specific events such as product launches or sales. These hashtags are not used once the campaign is finished.
Hashtags are usually added at the bottom of any text you have included in your post. Some people choose to hashtag in their comments, rather than include it in the post. One thing to be aware of is that seeing multiple hashtags is can be off putting and distract from your message. Being particular in the hashtags you use is a better idea. Instagram has a limit of 30.
When it comes to choosing hashtags, you could:
check out what your competitors are using
create your own hashtag and promote it
test out hashtags to see how popular they are and if they are attracting people from your target audience
use a hashtag tool to find some, such as Keyword Tool for Instagram Hashtags
In conclusion, remember that the aim of Instagram is to direct people to your website. So, you want to make sure you have a great website for them to arrive at! We offer a free website trial using our DIY website builder - start your free trial today!