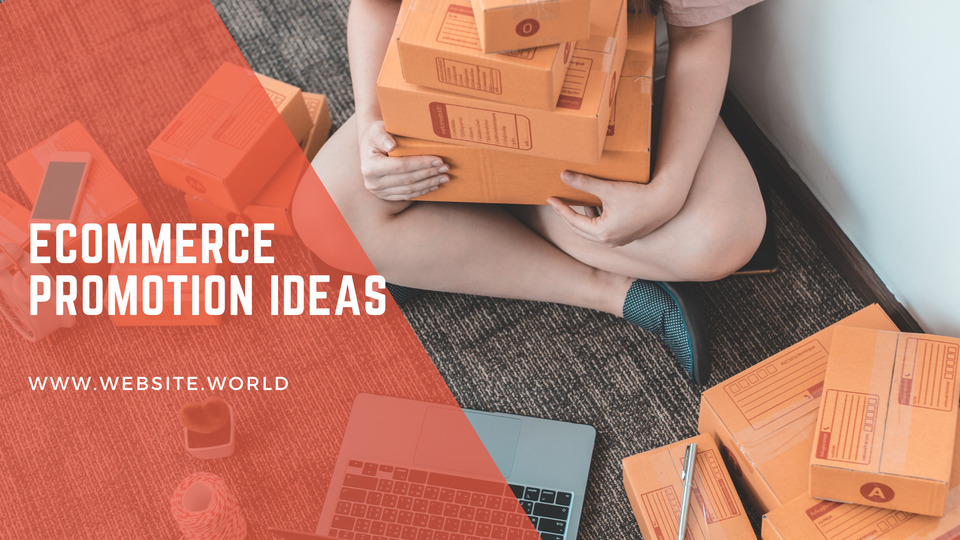 Online customers are savvy. They know how to find their desired product at the cheapest price. Customers also love discounts and specials. If you get your eCommerce sales promotions in front of the right audience and pitch it well, you can send your customers into a buying frenzy.
We've made a list of 30 eCommerce promotion ideas you can use to help increase sales volumes on your website!
30 Sales Promotion Ideas for Online Stores
There are a few theories and beliefs regarding offering discounts online. Some say that by offering discounts, you are telling your customers that your prices are too high. Another is that by having lots of sale promotion you will hurt your bottom line and your customers will expect more for less. Both of these could be true for some businesses, but for others, the opposite can happen.
Well known American business JCPenney stopped offering regular promotions because of advice that it was sending the wrong message to customers, and that their profit will drop. What actually happened was that their online sales volume dropped, with fewer orders made. When they began offering discounts again, sales volumes and profit levels rose once more.
Remember that every customer wants to walk away from their purchase feeling like they are the winner. The following 30 sales promotional ideas for your online store can help ensure they do:
Welcome promotions - welcome your new email subscribers with a special discount for signing up to your newsletter or VIP club.
Free shipping - always a popular option, you could offer free shipping over a set transaction value, for specific products or give a special coupon code.
Buy one get one or BOGO - a free product sure sounds like a great idea to customers. This promotion helps you manage your inventory levels, as well as upselling and cross selling products.
Bundles - by putting two or more products together at a discounted price, you end up shifting more inventory and incentivising the customer to buy more.
Beginning and end of season discounts - turn on the discounts to help you shift excess stock and entice customers back to buy.
Flash promotion - like a flash in the pan, this promotion is short lasting and encourages customers to buy quickly before the time is up, or stocks sell out.
Product based - whether it is product launch promotion or a back in stock one, individual products can also be promoted.
Abandoned cart - as long as you have their contact details, you can send those customers who abandoned their cart an email with a promotion inside.
Gift cards - send your subscribers an email which gives them a virtual gift card they can spend in your store.
Deal of the day - why not have a specific product on sale regularly? Be specific and exclude specific customer segments to avoid a free for all.
Reviews - offer customers who leave a review a discount for their next purchase.
Free product, pay shipping only - a great one to build trust with your customers is to offer them a free product to trial. Can work in conjunction with a specific product that is promoted, with the customer buying the high cost product to get a low one free.
Exclusive products - your customer can only purchase the exclusive product X when they purchase the regular product Y. Having a scarce and exclusive product encourages more customers to buy product Y.
Percentage based discount - a percentage discount is offered for certain products, categories or storewide.
Quantity discounts - give a discount for buying a set quantity of a product, such as buy 5 and receive a 15% discount.
Customer loyalty - reward your repeat customers with special offers on your site.
First purchase anniversary - send customers an email a year from their first purchase, and each year onwards, offering them a discount as a thank you.
Loyalty program - use a loyalty points system where your customer is rewarded with loyalty points for each dollar they spend, which they can in turn spend on your website.
Membership discount - start up a mermbership club related to your business that customers can join, and in return offer them a membership discount and regular emails, or a members only section on your website.
Refer a friend discount - by sharing your website with a friend who becomes a customer or signs up to the email list, a customer receives a discount. Similar to an affiliate promotion.
Pre order discount - build the hype for your new product while taking pre orders at a discounted price. Win, win.
Back order discount - you are out of stock, but if the customer wants to make an order for the product now, with delivery later, give them a discount.
Subscription discount - ideal for consumable products, offer a discounted price for a regular subscription purchase.
Time sensitive discount - set a time limit and create a sense of urgency to make the purchase and save money.
Spend more to get the discount - if the current cart contains $100, the customer receives a set discount.
Student discount - offer a discount for university or tertiary students to encourage them to shop at your store.
Senior discount - seniors have less disposable income, but great brand loyalty and influence on others, so a discount can make them a regular customer.
Gift registry or wish list discount - offer a limited time sale on the products within a customer's gift registry or on their wish list.
Limited editions - offer time limited or special runs of individual products to encourage more purchases.
Store credit - instead of giving a discount coupon for signing up to your email list, give store credit with a use by date.
Ready to take your online store to the next level using New Zealand's best eCommerce provider? Using our platform, you can either configure automated discount formulas, or enable promotional codes. We have so many different ways to craft the perfect discount, to encourage a first time customer to purchase, or a repeat customer to increase the size of their cart. Grab your free trial today or get in touch to learn how we can migrate your existing site over to us.
Posted: Tuesday 25 October 2022