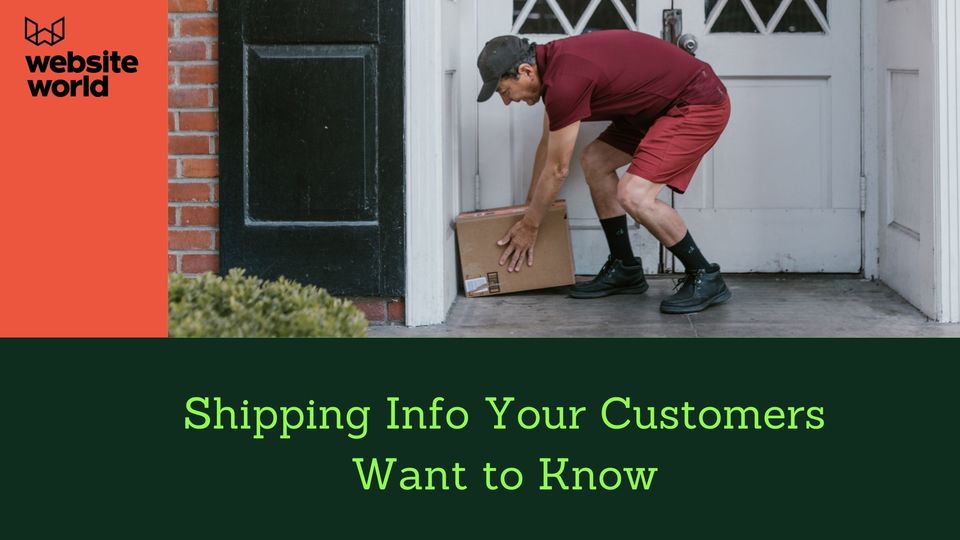 When shopping online, customers want to know specific information about product shipping. How much will it cost? What is the shipping process? How long will it take to be delivered? What about if I have to return it? If there are delays or it goes missing, what will you do?
To meet the expectations around product shipping, your website needs to be very clear and the best place to do this is on your Shipping page. There are also additional areas on your website that should include shipping information too. We're going to explore these and discuss the key points your customers want to know about your shipping processes.
Key Shipping Information Customers Want to Know
Online shoppers want their purchases delivered quickly and cheaply - or even free! Shipping is often a big deciding factor in whether a customer buys from your website or from your competitor. While price is important, customers also want to know other key information about the ins and outs of how they will receive their purchases:
What is the shipping cost?
Will it cost more to send to a rural address?
Do you offer free shipping at all?
Is there a cheaper local delivery option?
When will I get my order?
What courier or shipping company are you using?
Can I pick the courier it is sent with?
Will you deliver to a PO Box?
Can I collect my order from you?
Will I need to pay to return my order if required?
What happens if my order is late or lost?
How will my order be packaged?
Do you use recycled or sustainable packaging?
Let's take a look at where you should be displaying this information on your website.
Information for Your Shipping Page
A website's shipping page isn't one you'd be expecting or even wanting to be ranking highly in Google. But its importance cannot be underestimated, and that's why you should spend the time to set one up and add detailed content to.
Customers will actively seek out a shipping page for information on your shipping processes. So firstly, make it easy for them to find with a link from your main menu, footer, and internal links within website content. On the page, using headings to make it easy to find specific information, white space and bullet points to make it easy to read and up-to-date information which doesn't conflict with other shipping details elsewhere on your site.
As for what information you should include within your shipping page, consider adding your:
domestic shipping options and costs
rural shipping costs
international shipping options
return policy
cancellation policy
order processing time
The more details you can include within your shipping page, the better. But there are other places on your website that you need to add them too.
Other Areas On Your Website Needing Shipping Information
While your shipping page should be seen as the main site of shipping information, there are other areas within your website that could benefit from you adding details too. Customers don't like surprises about shipping costs and prefer to know upfront when they begin their visit to your store.
If your shipping costs are unclear, customers will add products to their cart and then complete as much of the checkout as required for shipping costs to be displayed. They'll often then abandon the cart, as well as add and subtract items to see if they can adjust the shipping costs.
If you have shipping rates based on product weight, add shipping costs to the product descriptions of your heavy or bulky items.
If you offer free shipping for all orders or orders over a certain total spend, let customers see this quickly, such as by adding it to the page banner areas, in a popup, in large text on product descriptions, the shopping cart and the checkout.
Include links to your shipping page directly from the shopping cart and checkout
Add information about delivery estimates easy to find, with links to the shipping page throughout your site
Let customers know about possible or actual delays immediately upon visiting your store by including it in the banner area or popup, as well as in the checkout and cart area. If delays occur after purchase, make sure your shipping page says what you will do, and that you actually do it!
Shipping costs are significant part of a customers' purchasing decision, so let's take a look at how you can minimise and manage these better.
Ways to Reduce Your Customers' Shipping Costs
Shipping costs don't just refer to the charge you pay the courier or shipping company. You also need to factor in the cost of boxes, tape, labels and other packaging materials too. It's important that you either incorporate these costs into the price of the product or the postage costs. You may find that if your postage costs are higher than a competitors', customers will ask you why! Some ways you can lower shipping costs for your customers include:
choose the right sized packaging
Use less packaging and reduce the packaging weight
Use repurposed packaging / reuse packaging
Shop around for courier options
Use an aggregator integration, such as with GoSweetSpot or Parcelport - both are fully integrated with Website World
Offering a better option for retailers wanting to sell online, we too know what our customers want to know about. Learn more about what our eCommerce website builder as to offer your business, and get in touch if you'd like to know more.