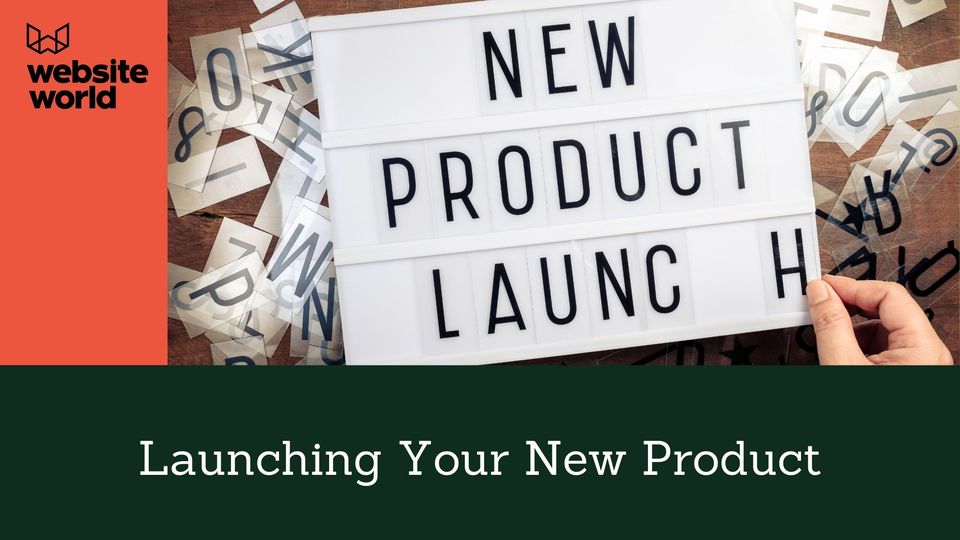 You've got an awesome new product and you're excited to share it with your customers. There's only one initial launch, which makes what you do at this time very important. We've put together some information on the steps you could take when launching a new product.
5 Steps to Launch a New Product Online
With 95% of new products failing in their first year, it's vital that your product launch is successful. You need to get and retain the attention of your target audience and demonstrate to them the benefits of purchasing and using your product. We're going to assume that you have already completed your due diligence and analysis regarding your product. This would have included researching the product, the competitors, the target audience, the viability of the product and your budget. With all of the feasibility research behind you, it's time to write up your launch plan and get it online using these five steps:
Establish the deadlines - decide upon a launch date and stick with it. When naming a date, make sure you know of everything you need to do beforehand and that you will have enough time to it all. Decide if you are having a pre-launch as a trial run also. Then there are the other tasks that you'll need to do in the days, weeks and months after the launch too...
Write a positioning statement - here you'll write down a statement that will guide your actions for the launch and beyond. Inside this statement, include information about the product, the target audience and the benefits it provides those customers. This statement can be included within your product description too.
Create a marketing plan - make a plan about the marketing tasks you will do in order to promote the product launch, as well as ongoing marketing strategies. This will need to include background information on where the customers area, building a social media and website presence, growing your email list, analytical tools and any partnerships. Then for the marketing plan itself, include details of budget, the outlets you will use for the launch promotion, the offer to be used and how you will drive traffic to your website.
Create the product content - you've got a plan; it's now time to create the content you will use before, during and after the launch. This includes images and text for digital promotions, plus any printed materials that will be used.
Identify what you will do moving forwards - the product launch is just the beginning. How will you keep the momentum going? What additional marketing strategies will you try? How will you measure the success of your product? At what stage will you be able to deem the product a success or a failure, and what actions will you then take?
Let's take a look at the list of product launch ideas we've put together for you to consider using.
Exploring Product Launch Ideas
There are so many ways you can introduce your new product. The difficulty comes in choosing which ones to use based upon their likelihood of success, as well as product, budget and audience suitability. Here's a list we've put together on product launch ideas for you to consider:
teaser campaign - get attention for the impending launch by creating a teaser campaign. By uploading teasers to social media you can generate a buzz and excitement about the product and build curiosity.
influencer marketing - approach suitable influencers and ask them to promote your new product. Beware that this can be very costly, as gone are the days when influencers took the product as payment.
pre-orders - take pre-orders for the product via your website. You could even promote a pre-order discount to encourage large sales volumes before launch.
visual countdowns - run a daily visual countdown to launch on social media. This could include visuals as well as go live videos.
blogging - write up some blog posts and add them to your website. You could even offer to write one for others in return for a link back to your product.
markets and trade shows - attend as an exhibitor and promote you new product to both the general public and retailers looking for new wholesale products.
news media - approach local media companies and inform them about the product. This could be a press release, as well as a phone call. To get their interest, make sure you approach the best person and explain how it would benefit them and their readers by sharing your product details with others.
behind the scenes - show the target audience what is happening behind the scenes before launch. This could include people packing or manufacturing the product.
hashtag campaign - start up a hashtag campaign on social media and get people using it.
run a competition - in exchange for following you on social media or signing up to your email list for future marketing.
ask for reviews - offer the product to specific customers whom you already have a great relationship with and ask them for a written product review.
With a new product, you need to have a website and a great product description to send your customers to. Website World is a leading online store provider, and our free website builder makes creating a website a breeze. Grab yourself a free website trial today and check out our advice on writing product descriptions to help give your new product the success it deserves.