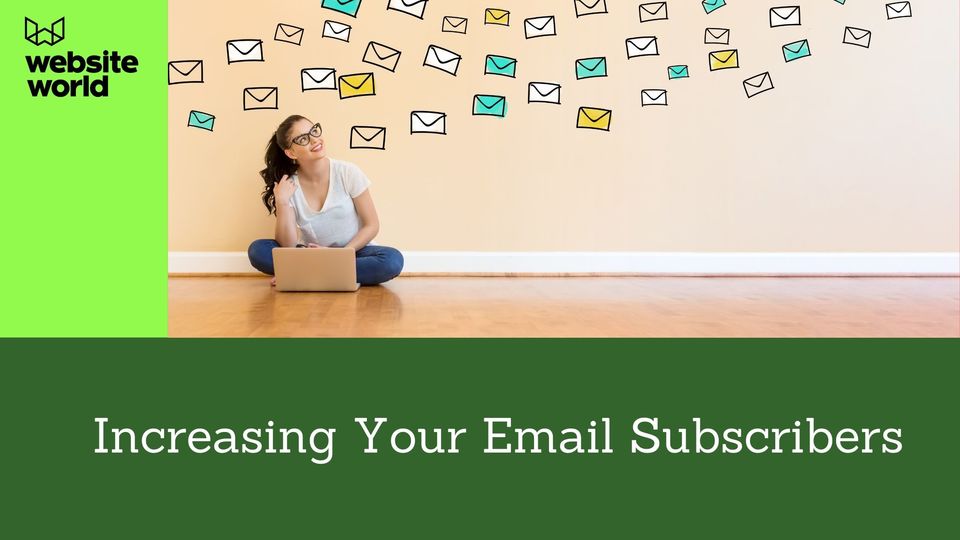 Your list of email subscribers are one of the most valuable assets your business can have. They're the names and email addresses of people who have given explicit permission for you to contact them. Subscribers do so for a variety of reasons, including to learn more about your products or services, receive promotional and event information about your business, for education purposes or in exchange for something you give them.
While this all sounds great, the problem is that its not easy to get people to subscribe and that's where the information in this article comes into play. We'll also demonstrate in a video how to add a subscriber form to your website!
5 Ideas to Increase Your Email Subscriber List
Try these five ideas to increase your email subscriber numbers:
run a competition - in exchange for an entry into a competition, an entrant needs to provide their email address and any other required contact details
create additional bonus content - provide a basic introduction on a topic, and then give the opportunity to gain access to more in-depth information by giving an email address
create an online tool - a calculator, plugin or image resizer are all examples of free tools you may want to create and then offer to your audience for their email address
provide an eBook - compile an eBook containing information your target audience wants to know more about. Set up an auto delivery of it to new subscribers
offer a range of content to pick from - let your new subscribers pick what they want; an eBook, discount, free shipping...
Additional Ideas to Increase Subscriber Signups
Besides offering something to subscribers in return for their details, there are things you can do to increase your email subscription successes, including:
start writing a regular blog and encourage readers to subscribe to it
create a dedicated landing page for subscriptions
use calls to action throughout your website, encouraging people to sign up
promote your subscription in your YouTube video descriptions and on social media
try a different opt-in button style or colour on your calls to action and subscribe buttons
vary the location of your subscriber form to see if one area is more successful than another
use a popup such as one at the end of your articles or upon page exit areas
add a tick box to subscribe to your newsletter to your checkout area
remove distractions from the subscriber page so that is the only message or CTA on that page
add a subscription opt-in link in your email footer to capture those not on your website
split test your subscriber form text, colours and sizes to see which combination is most successful
use social proof, such as how many people have already benefited by signing up
create a fun quiz for people to complete, and to receive their results they need to sign up
make sure that your signup forms and popups work for mobile devices too
use affiliates to increase your subscription numbers
host webinars in return for contact details
work with complimentary businesses to promote each other and encourage signups
Let's take a look at how you can put in place a subscriber form using the Website World platform to begin growing your email list subscribers.
How to Add a Subscriber Form to Your Website
There are a couple of ways you can collect new subscribers via your website:
a stand alone subscribe page
a subscribe form at the bottom of a page
a popup with a subscribe option
a lead magnet page