Facebook gives you the ability to have a tab on your Facebook page which links directly through to your website to collect email addresses. This helps you to gain the names and contact details of people who want to sign up to your newsletter or subscription list.
Growing Your Mailing List
The Website World CMS is able to help you gather and manage the contact details of people interested in your products or services. Just like MailChimp or Aweber, the bulk emailer within the CMS will:
let you choose the information you want to collect - name, email address, phone number etc
ensure the sign up process complies with the GDPR
let you send bulk emails to your list
allow you to edit and add people manually
let you have multiple email lists
show you the statistics of your bulk emails/newsletters
Setting Up Your Newsletter Sign Up Form
First you need to create a new hidden page. The type of page you want is the Subscription Forms page.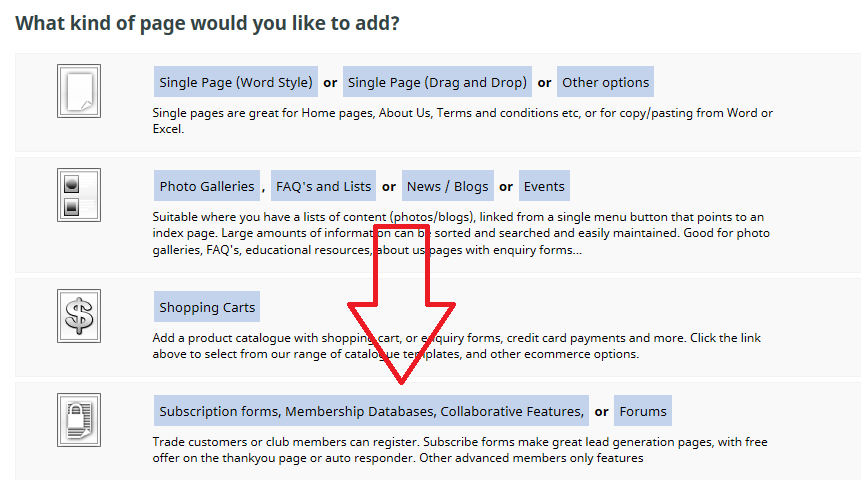 If you didn't want it to use the same template as your website, you would change the Page Layout to an alternative template or no template. From here, you then can customise your page and form fields. After you have published your new page, make a note of it's URL as you will need to enter this when setting up your Facebook tab.
Finally, follow the instructions on Using Page Tabs on Facebook. These will walk you through how to set the tab up on your page. If you'd like us to set it all up for you for $100+GST, send us an email. The other way is to simply create a post on Facebook to promote which sends people directly to your website to join your mailing list.