Videos have always been popular on social media and now it seems they are making their way to websites with increasing speed. We're going to take a look at the benefits an eCommerce business can receive from using videos, tools to help you create videos and how to add a video to your website.
Benefits of eCommerce Video Marketing
eCommerce videos are powerful tools just ready and waiting to be taken advantage of. Let's take a look at some of the key advantages they can provide:
Increases conversion rates - when shopping online, the customer only has the information you put in front of them to decide on whether they will purchase your product. This includes product photos, descriptions and videos. A video can provide them with information they wouldn't otherwise get from a description, such as demonstration of the product in use, viewing more of what the product looks like and people talking about what the product has provided for them.
Videos are regularly shared by visitors - if someone likes your product description, they most likely aren't going to share it on their social media account. A video is a different story though, with customers happy to let a video explain more about a product to their friends than a product URL. Videos are also more likely to go viral online than a webpage is.
Helps educate customers - customers like to feel empowered and that they fully understand the ins and outs of a product. A video can go a long way in educating them about how a product works and how they can use it.
Raise credibility - videos are a way of demonstrating that your product and your business is highly credible and should be trusted as videos are commonly used by high end brands.
Build brand awareness - using videos can help to build up brand awareness, be eye catching and educational, they can be added to a website, posted on social media or on video based sites such as YouTube and Vimeo.
Device users like videos - a person using a mobile phone is more likely to watch a video than someone on a desk top. With the growing percentage of mobile users using their phones for shopping and entertainment, this is only set to increase.
Let's now take a look at some of your options of video creation software.
Video Creation Tools for Businesses
When creating a video, you have quite a few decisions to make. Do you simply want a photo slide show with text or voiceover, an animated video, or a video of your product in action? The chosen format of your video will directly impact upon the software tools you can use, as will your budget and technical skills. Here are a few popular options:
When you have created a video, it will most likely be one saved as an MP4 file format, though other types include MOV, WMV and AVI. Let's take a look at how to add this video to your website.
Adding a Video to Your Website
The best approach is not to directly upload a video to your website, but rather a 3rd party video platform such as YouTube or Vimeo. This means that rather than storing the video file within your website, potentially slowing it down, it is hosted elsewhere but instantly viewable on your website. Here are the steps to get your video showing on your website:
1. Upload your video to your chosen video host. In these steps, we're demonstrating how to add a video from our Website World YouTube channel.
2. Add a video snippet box to the exact area on a page within your website. Using the Drag and Drop editor is the easiest way to do this.

3. Click on the Edit Link button which appears when you hover over the video snippet: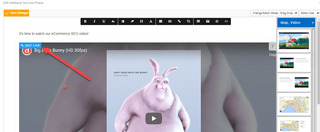 4. This opens a popup with an area at the bottom for you to add the direct video link from your 3rd party host. Click the Insert button at the bottom and your video will be visible on your page, as ours is below this.

For more support in using videos within your online store, take a read of our articles: