It is 100% entirely possible for every website owner to successfully do their own web design. But not everyone wants to, which is when we recommend outsourcing this to a professional web designer. Today though, we've put together a great collection of actionable tips to help you get unstuck when it comes to the designing of your website.
Web Design Tips for When You're Stuck for Ideas
If your creative juices are just not flowing, you can't decide on which font looks best and you have no clue about what to put on your home page, then these are the web design tips for you! Let's get you going:
Plans are great for helping you work out what the problems are and what you can do to fix them. But plans can also include details of the whole picture, keeping tabs on the basics that you need to include. When designing a website, you need to know what goals you want the website to meet (eCommerce sales, traffic from school administrators, entertaining your family), what journey the website visitor will take to achieve those goals, and a style guide which includes your specific fonts, colours and images. By taking all of these things, you'll be in a better place to start your designing.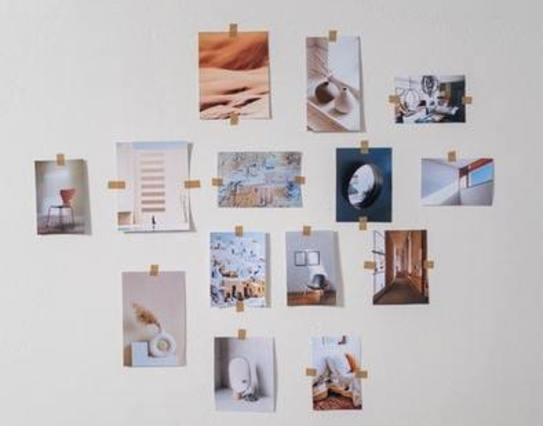 Mood boards are visual tools which are ideal for collating your web design ideas in one place. Similar to vision boards, on a mood board you would put a collection of visual materials that you like to help provide design direction.
You could use Pinterest for this, or screenshot examples of websites you like, print and then stick them onto cardboard. Or take photos of the colours and examples of images you want to use.
Think About the Structure for a Bit
Get out your pen and paper; it's time to do some sketches. Inside the outline of a page you want to design, draw the things you want to include in it, such as heading, photos, text and buttons. This helps you to visualise where things should go on a page, without having to worry about colours or other design features. It can help you get back to the basics of what you need to do without the clutter of the other elements.
Use Established Web Standards
When designing a website, there are some well documented common standards that stand the test of time. These include things such as having consistency branding across the site, the most important content at the top of a page, a call to action up high on a home page and a respsonsive template (which Website World provide for you). Take a read of our articles How to Check the UX of Your Website, 10 Ways to Improve Your Website and Popular Website Colours for further support with this.
Use Google to Go Visiting
Go looking for websites within your industry area to see what they are doing. If you know who you competition are, what things do they have in their design that you like/don't like? Making a list of websites you like the look and function of can help you with knowing what to include in your own.
Finally, it's ok to take a break and ask someone else for ideas. For paid support, we recommend using one of our many resellers who can help you finesse your design.