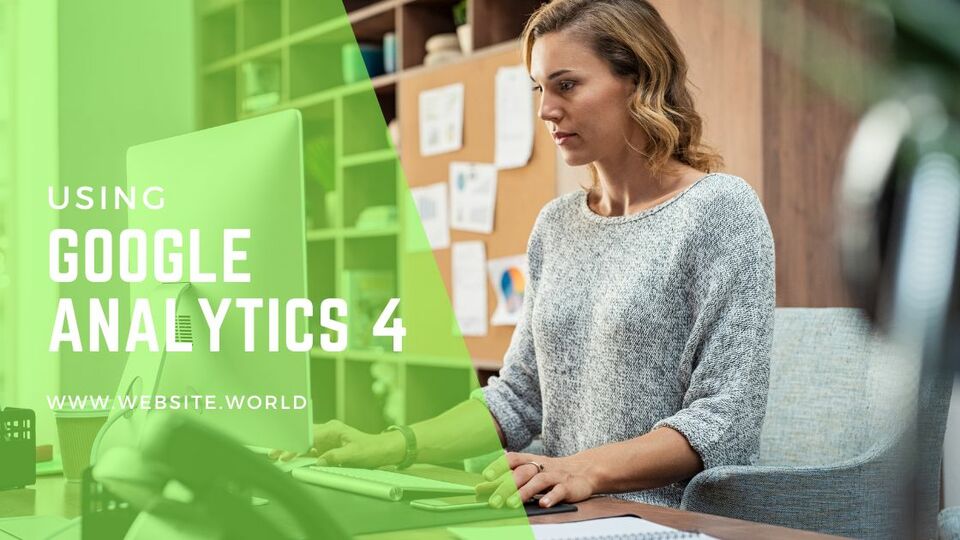 Google Analytics 4 or GA4 is Google's newest web analytics property that tracks visitor activity on both websites and apps. With more features and data available to you than the previous version, Universal Analytics, you will be better able to understand how visitors interact with your website. In particular, the new features of Google Analytics 4 include:
Measurements have become events - page views are no longer the key metric, with GA4 reporting on events instead. Engagement metrics are now available too.
Dashboard is streamlined - the way the GA4 dashboard looks has changed, with many reports moved elsewhere. You can also now customise your dashboard and more accurately track customer interactions by creating custom segments from trigger events on your website or app.
Predictive metrics are available - created by Google AI, predictive metrics give you the information needed to create new audiences and targeted Google Ads, and create custom funnels for your website.
Cross platform tracking - you will be able to see the whole customer journey between platforms
Increased focus on customer privacy - privacy controls such as behavioural and conversion modelling, plus cookie-less measurement
Reporting for both websites and applications - data is now recorded for both users of websites and apps
How to Add Google Analytics 4 to Your Website
To use GA4, you must first either create a new Analytics account if you do not already have one, or add a new GA4 property to your website. Google has created step by step instructions as well as a self paced course which are available for referring to on how to do both of these things.
Once either is complete, you will be able to add your GA4 Measurement ID into the CMS. Below is a screenshot of the box where this is entered. You can find this box under the SEO tab, followed by the Tracking tab. It is worth checking when you have logged into your GA4 account, that you may need to manually mark steps as complete by clicking on the icon angle bracket [>] if GA4 does not do this itself after you have completed your required customisations.
Of note, Website World has native integration with GA4, so that you can better analyse success metrics including dollar value of sales.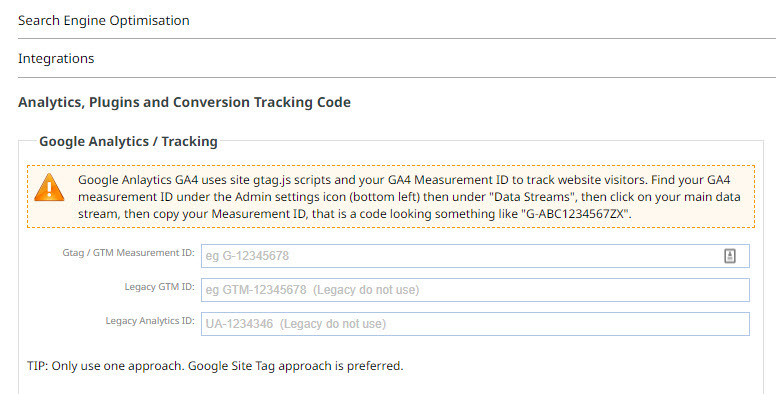 How to Use Google Analytics 4
If you learn best by being hands on, Google has a GA4 Demo Account you can try out without fear of altering your own account settings. Once you are feeling confident, there are plenty of things you will need to learn about and set up in your GA4 website account to measure your website data.
There are three key sections within GA4 to be aware of and understand (plus the configure section found elsewhere)
Reports - here you'll find information about the customer journey, including how they found your site, what they did on your site, and where they came from
Explore - deep custom reporting and data visualisations can be found here
Advertising - information related to your paid Google Ads is found here, including conversions and user journeys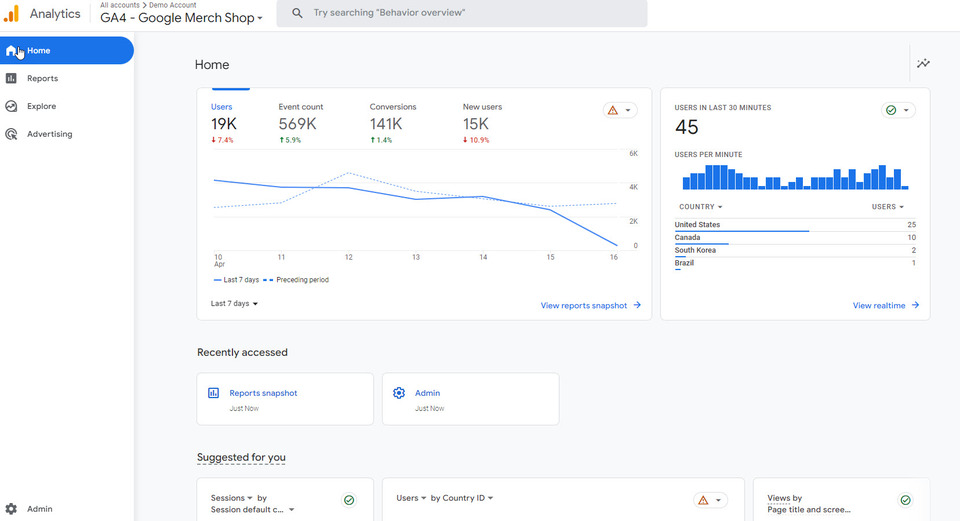 If we look further into the reports section, there are four key report types: acquisition, engagement, monitisation and retention.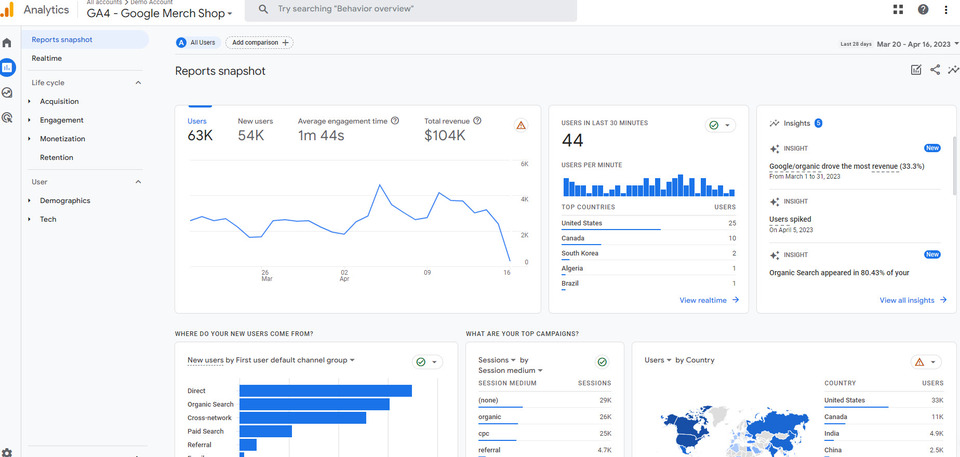 The acquisition overview summary screen will show the reports available which detail information about how users get to your site and the channels they are using.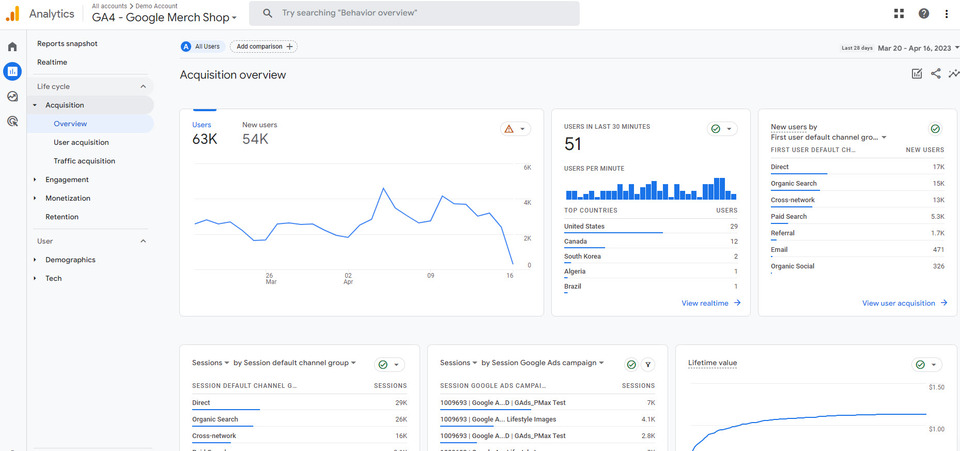 The engagement overview summary screen shows what users do with your app or website. It gives information about engagement time, users in the last 30 minutes, views and an event count. Events are very important and you will need to set up events you wish to track - we'll explain how to do this further down this article.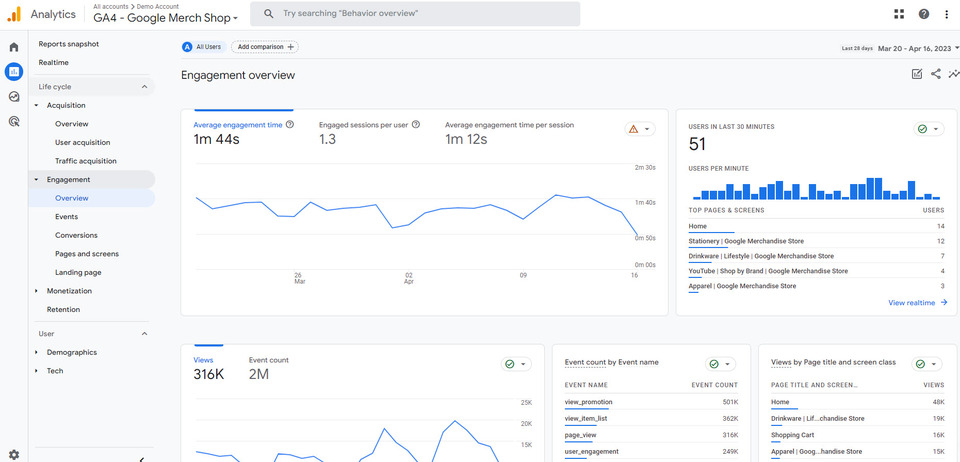 Monetisation reports provide information about how your app or website is creating revenue through purchases or advertising. You'll see information about total revenue, average revenue per user, most popular purchases, number of purchasers and first time purchasers.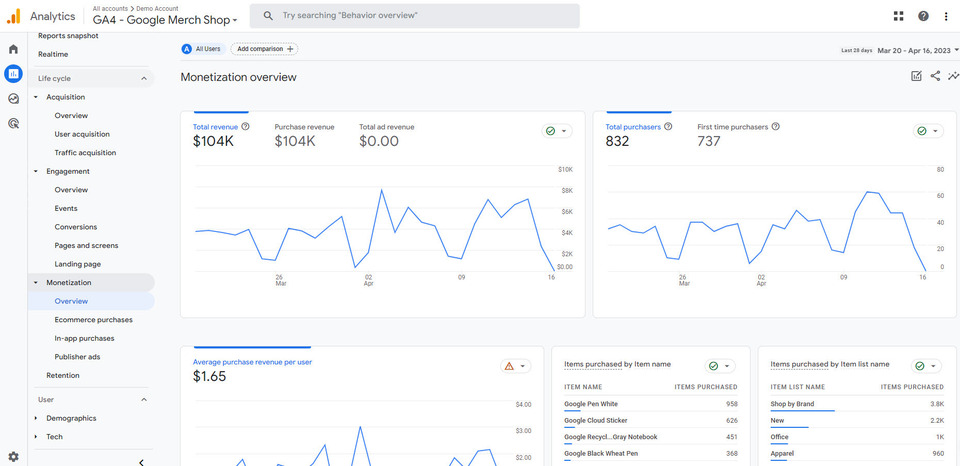 The retention reports give you information about returning customers, compares them with new users, how engaged they are when they return and their lifetime value.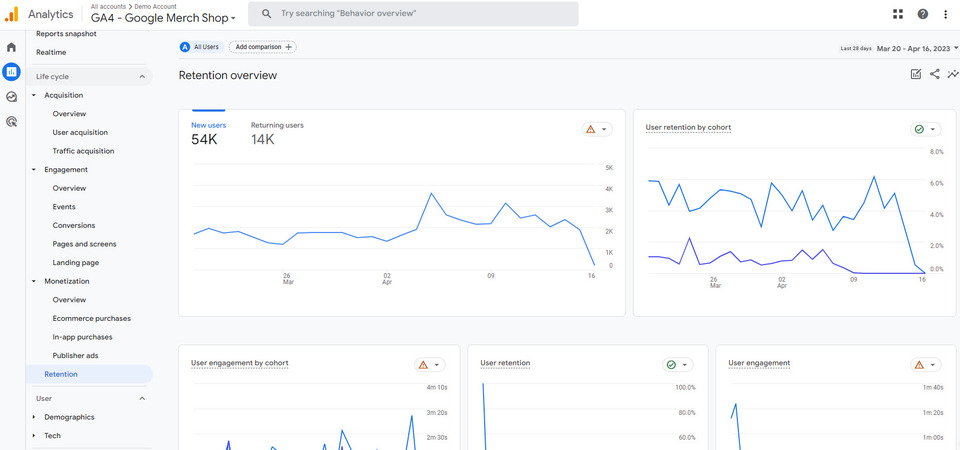 Further down you will also see there are reports available specifically on users, with reports on demographic overview and demographic details.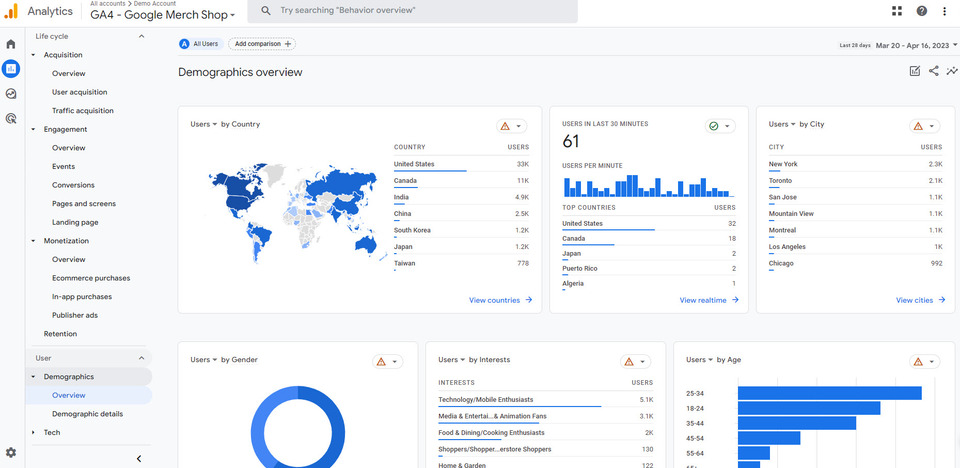 Understanding Events in Google Analytics 4
In GA4, events are how you will track pretty much everything. An event gives you the ability to measure a specific thing that happens or interaction through your app or website. GA4 has some events created that it will automatically collect information for, including screen views, page views, in app purchase, first visit, first open, file download, ad impressions and app exception. More specifics about the automatic events data can be found here. Google also provides instructions for creating your own custom events and gives some recommended events it suggest you set up too.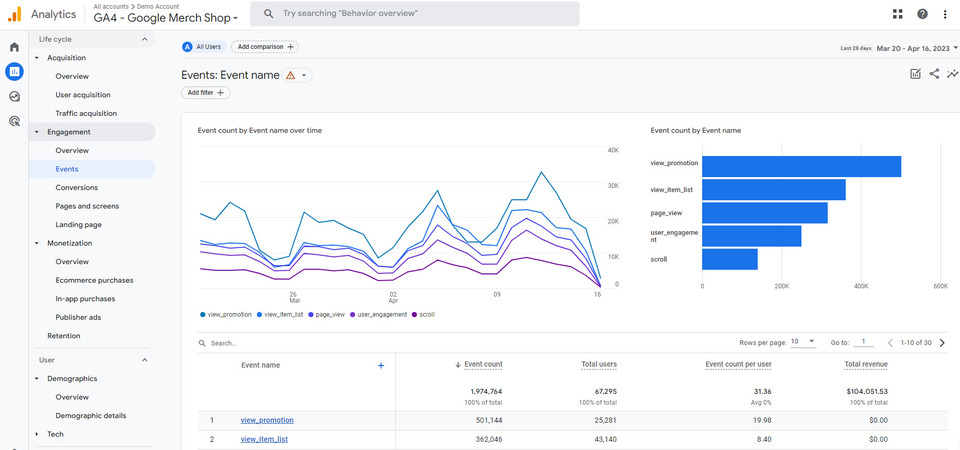 In the above events overview screenshot from the GA4 Demo account, you will see that they have set up several events to track. Clicking on one of these events will then open up the report specific to it which provides further data.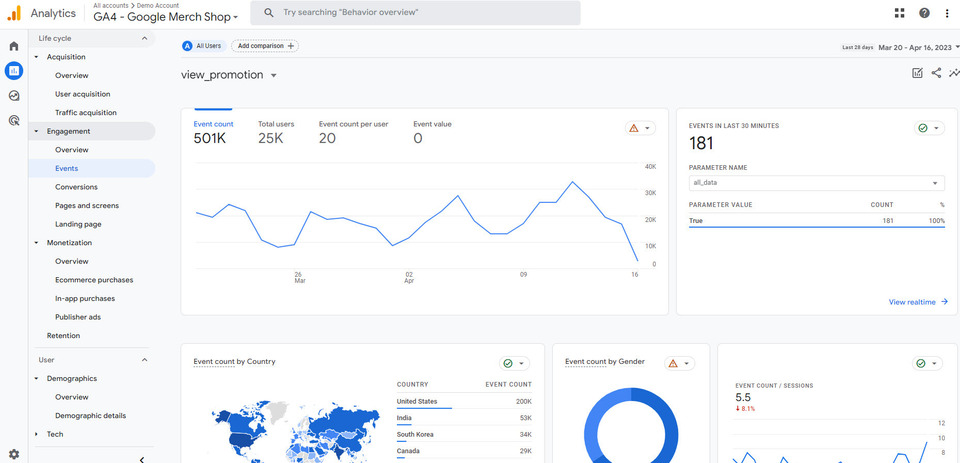 It does take time and effort to fully be able to use and understand all of the features in Google Analytics 4. If you need further help, we suggest contacting a business local to you who specialises in Google services.