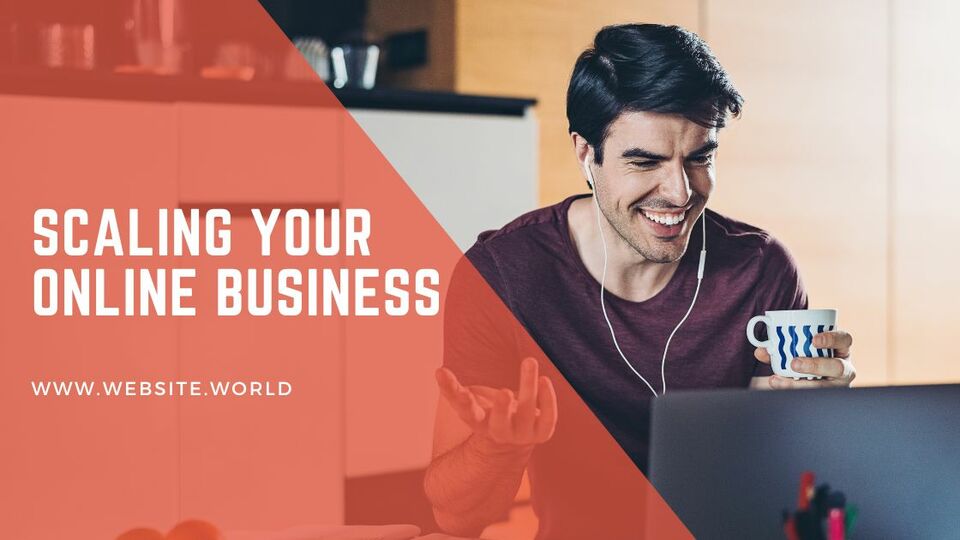 Online sales are expected to continue rising, as customers continue to take advantage of the convenience online shopping provides. Since the start of the pandemic, global online sales have grown by 25% to an estimated US$5.4 trillion. This is predicted to continue to rise by over 56% to US$8.1 trillion by the end of 2026.
Consequently, the number of businesses selling online has risen and competition for customers has too. To ensure your business can meet the demands that a growing number of customers will place, plus thrive amongst your competitors, scaling your business online is the key to success.
Growing Vs Scaling Your Business Online
Scaling and growing a business are different things. Growing a business involves using additional resources to grow the size of the business, like adding additional products or increasing staffing. The business grows in size, but not always in profit, as operating costs will increase.
Scaling a business involves increasing your profit levels without having to significantly increase operating costs. A lot of the time, this will require some automation of your business' processes. Let's take a look at 8 different ways you could scale your business in 2023.
8 Ways to Scale Your eCommerce Business in 2023
We've put together a collection of 8 things you could do to scale your business online in 2023:
Automation - whenever you can automate a process, it frees up either your or an employee's time. This helps to reduce costs by using resources more effectively. Instead of focusing on repetitive tasks, you are able to instead focus upon tasks that can help attract new customers to your website. Examples of automated processes you can use include an introductory email series, abandoned cart emails, review requests and customer satisfaction surveys.
SEO strategy - search engine optimisation or SEO involves implementing the best on and off page SEO strategies to increase the amount of traffic to your website from search engine result pages. This involves creating original and useful website content, implementing keyword research and meta tags and receiving useful backlinks from other sites to yours, such as from a high ranking business directory.
Establish goals - spend some time researching what your competition are doing to attract customers, identifying areas you can improve in, listing the pros and cons of your business from a customer point of view and then creating achievable and realistic goals.
Collect reviews - ask your customers for reviews of both your products and the customer service they received from your business. Even better, set up an automated email to be sent to customers asking for reviews a few weeks after they have been sent the product. Once the customer has left a review, you simply need to approve it to make it live. You can then use these reviews to attract new customers and give crucial signals to search engines that customers value your business' offerings.
Social media interaction - social media is a mainstay of many customers, who spend around two hours per day catching up with family, friends, news and the brands they follow. By interacting on a regular basis with your followers, you can develop a positive relationship and achieve their brand loyalty. While time consuming, the value of building a presence on social media can be immense.
Influencer collaboration - the growing number and popularity of influencers is ready to be taken advantage of by your business. People like to hear what others have to say about a product, making word of mouth a highly effective marketing tool. You don't need to target the most well known (and expensive) influencers. Instead choose people that your target audience will relate with and enjoy content from.
Affiliate marketing - join up with some affiliates who can promote your business in return for a commission. You can set up an affiliate code for them to share with their followers, who enter this code when making a purchase and have it tracked through your website.
Customer service - the customer service you provide will set you apart from your competitors. Providing excellent top level service will have your customers raving, referring their friends and family to you and keep them coming back for more.