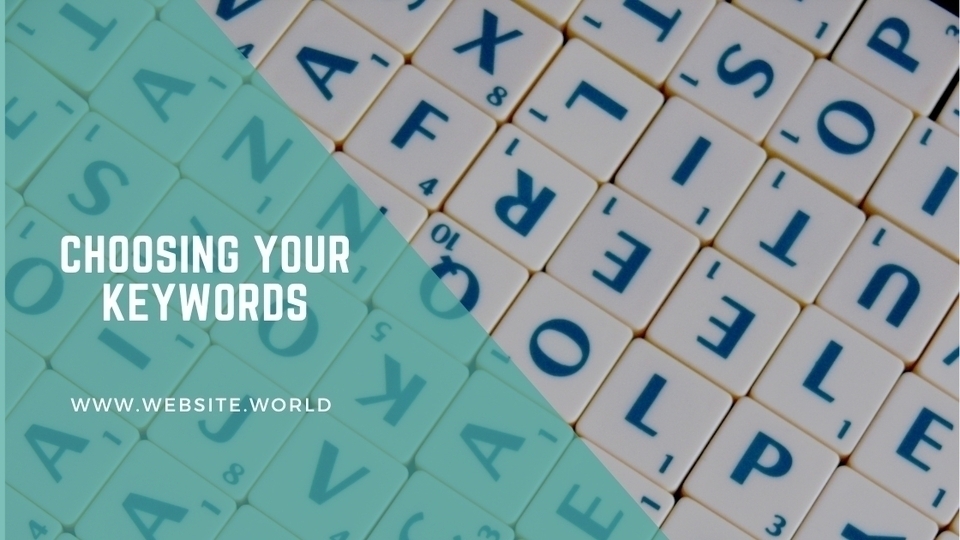 Choosing the right keywords and keyword phrases is a key task in SEO or search engine optimisation. Together with great original content, your keywords hold the power as to whether your website receives the right volume and type of organic traffic or not.
Keywords are the words and phrases someone uses to find specific information using a search engine. Keyword research is the process used to find these keywords and check that they are the ones the target audience is using.
While it is time consuming, it's not terribly difficult to pick the right keywords to us. We'll show you how to do this and where to include them within your meta tags and page content.
How to Pick Keywords for SEO
Before you start, keep in mind that the keywords and phrases that are used today by your customers, may not necessarily be the same ones they use next year. It is important that you regularly revisit the keywords you have chosen to ensure they are still appropriate.
There are 4 steps in selecting keywords for your website:
1. Create a list of topics that are relevant and important to your business
Brainstorm a list of topics that are relevant and important for your business. Ideally these topics should be very broad, such as 'baby clothing' or 'SEO'
2. Use these topics to identify specific keywords and phrases
From each topic, make a list of relevant words and phrases that you think people would type into Google. For example, for the topic baby clothing, you could add baby booties, cheap baby clothes, baby clothing shop, where to buy baby clothes...
3. Check the keywords for intent
Using Google, search each of the keywords or phrases one by one. Are you seeing the types of content in the search engine results that you would expect to see? Narrow down your lists of words based upon their search intent if required.
4. Use a keyword tool to confirm competition and monthly search volume
Using one of the many keyword tools, check each keyword and phrase for their monthly search volume and competition levels. The ideal keyword is one which has a high number of monthly searches and low competition, as this will be easier to rank in search results with.By following the above four steps, you will end up with a list of keywords to use within your website. The next thing to decide is where exactly you will add them.
It is recommended that each page on your website has its own unique keyword phrase. The job you need to do, is then choose and then use the best keyword on the most suitable page. Having identified the monthly searches and competition for each phrase above, you need to analyse the results to pick the best option. Ideally it will have high search volumes and low competition, but that rarely occurs for most keywords. Instead, look for other factors such as which websites are currently ranking for that keyword, how many search results there are and make a best guess as to which ones you have a chance to rank well with.
This is where long tail and short tail keywords come into play. Long tail keywords are the easiest to rank for as they are highly specific phrases with strong intent, but they also have the lowest monthly search volume. Short tail keywords are very difficult to rank for, though they have the largest volume of searches.
For example, the keyword baby booties has 240 monthly searches, 25% competition and the ranking sites are small local businesses. It would be a fair assumption to say that this is a good keyword to use. On the other hand, the term SEO has 5000 monthly searches, 89% competition and the ranking sites are Moz and Hubspot. While you can still use this term and should within your content, the chances of ranking on page one of Google on an individual page with it are very low and you should look for another word to use.
How to Use Keywords within Your Website
Once you've chosen your keywords and which page they will go, it's time to add them to your website. Remember though, you want to avoid keyword stuffing, which is essentially the deliberate overuse of keywords to try and rank highly in search results pages. Instead, aim for your keywords to be around 2-3% of the page's total word count.
The key places to use your keywords are:
Headings - an H1 or Heading 1 must be the first heading on any page and used once per page. The H1 must contain the keyword phrase and be reflective on what the page content consists of. Search engines use the H1 when indexing a page and as part of its ranking on search engine results pages.
Paragraphs - ideally use the keyword phrase in the first sentence of a paragraph.
Image filenames - when saving your photos, logos and other graphics, use the filename to describe the image and include the keyword if appropriate.
Meta tags - meta tags should be completed for every page on your website, and each page needs a unique keyword. For further help with this, make sure you read our detailed instructions on how to optimise your meta tags.
From here, it's up to you to write the content and include your keywords. Keep in mind though that you must write for your website visitors and not a search engine.