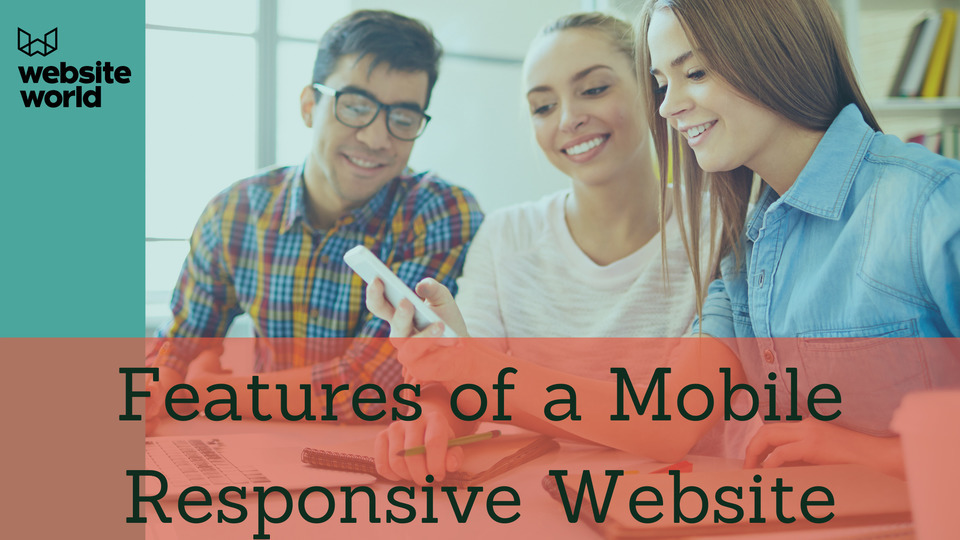 A mobile responsive website:
can adapt to any size screen and device
has readable text that does not require a zoom function
does not have any horizontal scrolling
is aesthetically pleasing regardless of the device it is being viewed upon
has flexible elements including images and text placement
reacts with the user in mind to enhance the website's usability
With the continual rise in usage and popularity of mobile devices including smartphones and tablets, it is vital that your website is mobile responsive.
Features of a Mobile Responsive Website
Website World's templates are mobile responsive and mobile friendly, giving you the certainty that they will perform well upon any device. Some of the most common features of a responsive website include:
easy to navigate - the hamburger menu navigation is one example, where you click upon it to open up a list of pages within the menu. Over time, the hamburger has been replaced in some websites with icons.
better SEO rankings- Google has said that when someone is using their search engine on a mobile device, it will rank mobile friendly websites higher than those that are not.
form adaption - forms adapt their fields so that users can enter their details easily on a mobile device.
column adaption - a responsive website will adapt the number of columns it shows a visitor depending upon the device size they are using.
different analytics - you'll see visitor details for both desktop and mobile visits to your website, letting you know what people do on your site and what they are using to view it.
no redirects are required - you don't need to have a separate website for mobile visitors, so no redirects are involved.
With these features come multiple advantages, which we'll discuss next.
Advantages of a Mobile Responsive Website
Both you and your website visitors will benefit from your website being mobile responsive. These advantages can include:
improved user experience - because your site is nice to use, visitors will most likely stay on it for longer.
lower bounce rates - related to the user experience, a site that looks good and is easy to navigate will retain visitors for longer, reducing your bounce rate.
improved SEO rankings - a mobile responsive website will rank higher than one that is not, as it is one of the signals that Google using when ranking search results.
higher conversion rates - as a responsive website looks great and is easy to use, you are likely to have a positive result from visitors to your site.
easy to maintain - there is nothing to do, nor additional mobile sites to create. Your website does all the hard work for you.
attract a wider audience - visitors to your site are not limited to a user-friendly experience dependent upon the type of device they are using.
A mobile responsive website is however slightly different from a mobile friendly one. Let's take a look at why.
Mobile Responsive vs Mobile Friendly Websites
You may have heard the terms mobile responsive and mobile friendly used interchangeably. They are different though.
A mobile-friendly website is a copy of your website which both functions and looks the same as it would on a desktop. This means that regardless of the device you view it on, it will also look the same, with just the scale changing.
A mobile responsive website will adapt the way it looks and functions depending upon the type and size of device it is view upon. You will find that our pre-designed website templates are mobile responsive, ensuring those who visit your website receive the best viewing and functional experiences every time.
Discover the many mobile responsive website templates we offer - and grab yourself a free trial to see just how easy it is to build a website with Website World.