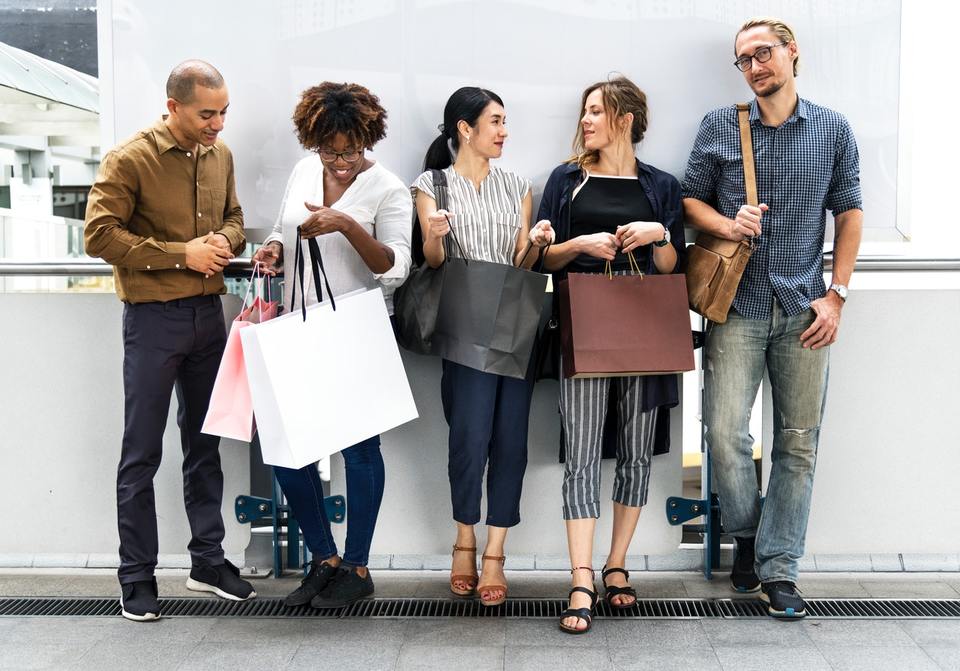 Understanding the Importance of Product Reviews
Product reviews help customers make decisions about which product will best suit their needs, and whether your business is the best place for them to purchase the product from. A review provides social proof, which is important because:
But as well as benefiting your customers, product reviews benefit your website too by:
helping improve product descriptions - when selling a product, we often get too close to it and may miss out information. Letting your customers review a product helps improve a product description as they are likely to add information important to buyers you may not have even thought of adding. You can use these reviews as quotes in your descriptions, as well as in other promotional activities.
creating user generated content - there's nothing better than new content from a source other than your business.
improving your SEO - new content on a page helps improve your search engine ranking as it shows Google it's being updated, let Google show reviews in its search results and start to rank for keywords containing (product name) review.
Some website owners are concerned with the thought of receiving negative reviews, and this can happen. However though, there are benefits of receiving negative reviews as:
30% of customers assume product reviews to be fake if there are no negative reviews
68% of shoppers trust reviews more if they see both good and bad reviews
95% of customers suspect censored or fake reviews if they don't see bad reviews
How to Enable Product Reviews On Your Website
Enabling product reviews in the CMS is simple (and if you haven't yet got a website with us, grab your trial site for free now).
Select the Shopping button from the main menu. On the Shopping Options page, scroll down and click on Customise Display Options & Notifications.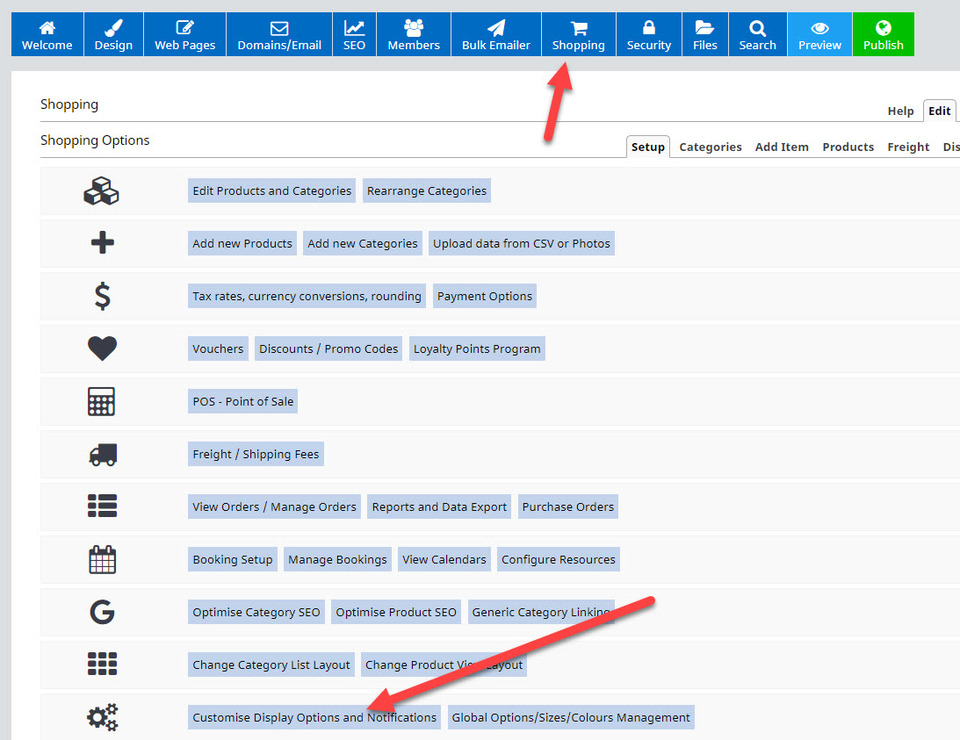 Next scroll down the page until you see the option Product Reviews Widget: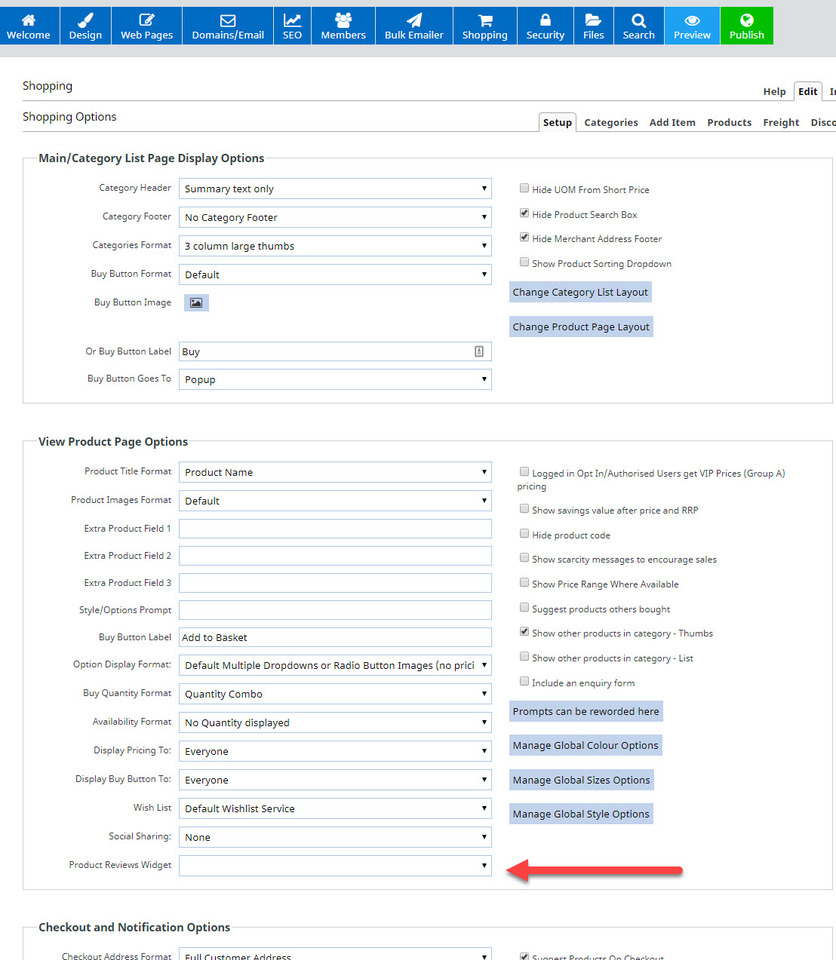 From the Product Reviews Widget drop down box, select the option CMS Reviews/Rating Widget, and then publish your website.

Once the review widget is enabled, visitors to your site will see the 5 stars rating widget just below the buy button.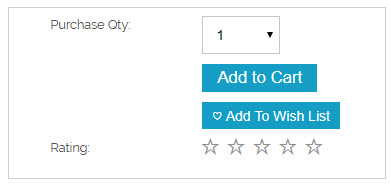 If a customer clicks on the stars (or the Review button in the reviews tab) , it will pop up a rating/review widget like this: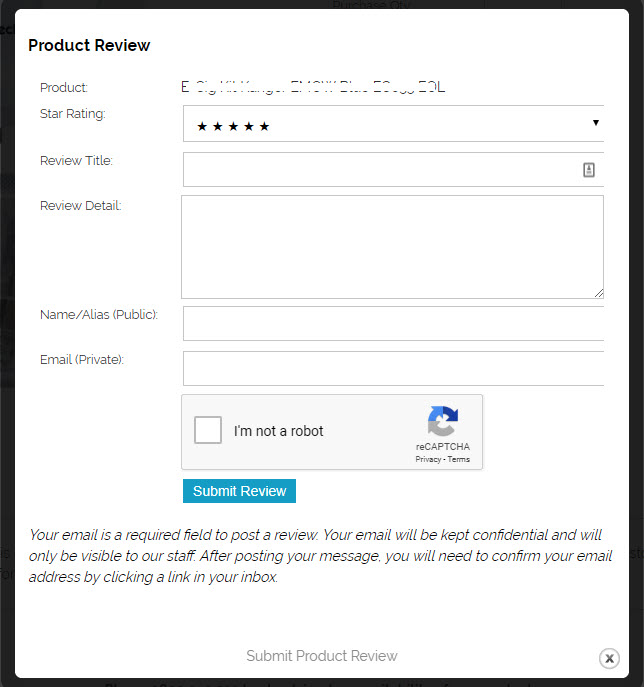 Encouraging Customers to Leave Product Reviews
It's easy to enable reviews on your site, but it can be difficult to get customers to leave them. There are a few things you can do to encourage customers to leave reviews on your website:
enable an automatic email to be sent out to customers after a set amount of time asking them to make a review or rating. You can set this up in the Shopping - Shopping Options - Customise Display Options & Notifications - then scroll down until you reach the Rating/Review Request Service box, and select the number of days after purchase you want the review request emailed out.
offer an incentive to customers to leave a review. This could be giving one reviewer their purchase price back each month, or a discount off their next purchase.
engage personally with each reviewer on your site thanking them for their comments.
The automatic email reminding the customer to leave a review can be edited on the same page that you enabled the email. Scroll down until you see the box Review Email Template and click the edit button to personalise your email.
Handling Spam & Checking Reviews
We've put several things in place to reduce the amount of spam that may be received through the review widget. The most noticeable one is that first time reviewers must verify their email address. Their review will not be able to be seen until this email address has been verified. Requiring a valid email address to leave a review also decreases fake reviews, and encourages genuine ones.
As webmaster, you will be sent an email notifying you of a new review. You can review their email address and review, making it live if it is genuine, or delete it if it is spam. You can also check all of the reviews via the Forum tab at the top of the CMS when logged in and there is at least one review.
A customer who has purchased from your site and receives the automatic email requesting they leave a review will, upon clicking on the email link, be able to leave their review and it go live immediately.
If you're looking for New Zealand's best eCommerce solution with a review and ratings option, you've found it! Grab yourself a free trial site now, and if you need help migrating an existing website over to us, we can help there too.