A lot of people say they don't need a website because they don't want any more customers; but there's another side to this story.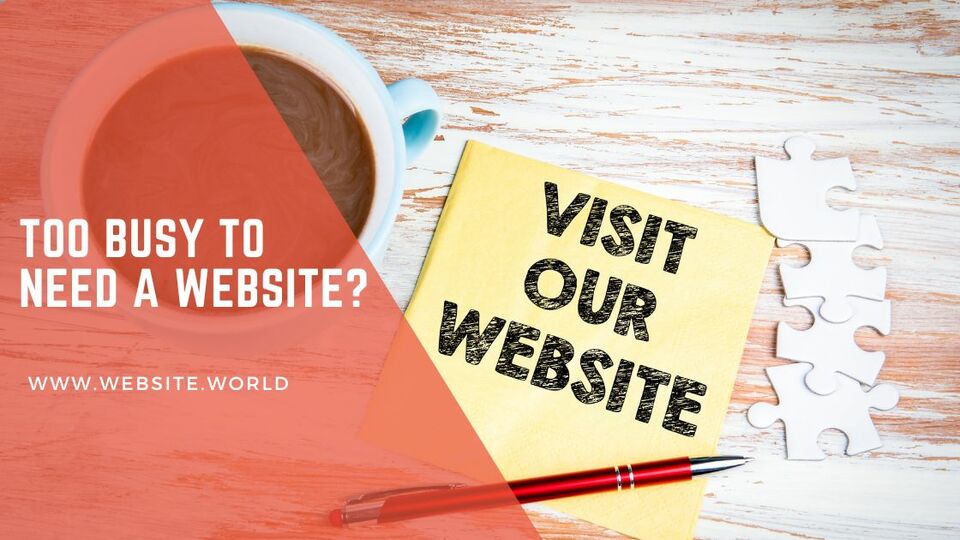 So, you don't need a website because you are so busy you are unable to take on any more customers? A lot of people say they don't need a website because they don't want any more customers; but there's more to a website than just selling.
Websites Are Not Just for Selling
When you have your own website, you control the narrative about your business. You are able to display the information you want the customer to focus upon, what are the best ways of communicating with you and what you can offer the customer above and beyond that which your competitor can.
Websites can help you control the communication process with your customers. If you run a small business you are often interrupted while on the job by random phone calls. These calls might be from good regular customers, or just tyre kickers looking for the cheapest quote.
By implementing just a few online enquiry forms on your website, you can ensure that prospective customers will provide all the information you need to price a job the first time. You can also choose when in your day you will respond to these queries, or employ someone else to do it for you. Perhaps you may even decide to use a shared secretarial service to answer your main phone number, and in turn, complete the enquiry form. This will ensure all your enquires are kept in one place, and easily organised. Rather than answering phone calls while you're working on a pipe under a house, or painting a roof, it is easier to dedicate a few minutes each lunchtime or evening to follow up on all quotes at once.
Even better, if your funds allow it, try getting an online quotation tool developed. This will enable customers to price their own jobs by answering a few simple questions. A standard list of terms and conditions will ensure you are covered if the customer hasn't provided all the information, or if the job works out bigger that they thought.
Another way to achieve a similar result is to provide example quotes for common jobs on your website. Or common prices for simple jobs.
It's not just enquiry forms which help businesses that don't want more customers. An FAQ section can help reduce time spent on the phone as well. Do your customers constantly ask obvious questions, or do different people keep asking the same questions? It's because the customers need education. The best way to do this is online. You can provide all the answers to commonly asked questions on your website. If customers start asking a new question, then answer that, and so on. A few minutes spent answering one question on your website will save as many phone calls as people who intend to ask that question.
The thing that most customers don't understand is how we do our particular business. And I don't mean how we do the hands-on work. In some businesses you start with an enquiry, offer an estimate, and then come around to do the job. If the job is too big, you may need to requote. Some businesses will charge a call-out fee no matter what, some don't. Then it might be some time, as you need to wait for specific parts to arrive, or specific people to complete a job. Some businesses require a deposit upfront when parts need to be ordered, or if a third party contractor is involved. Eventually customers need an idea of how long it will take to complete a job, and if payment is required at the completion of the job or by invoice within 7 days or on the 20th of the following month. Providing all this process and procedure information on a website will ensure that your customers are well informed before a job begins, and then the communication and administration surrounding a job will be all the easier.
In addition to that, what payment options do you actually offer? If you say you accept credit card, but not American Express, then is this clear to your customers before they start the job? Do you accept payment by online banking or cheque? Or is it cash only? If a customer wants to pay you after a job, was all the information on the invoice? Or could they find this information on your website? Some websites offer a bill payment option, allowing customers to enter a reference number and make a payment. Making it easier for your customers to pay you will ensure that they do pay you. Ensuring that a customer knows the payment options upfront will ensure no wasted house calls.
In summary, the more information you provide on your website, the easier your day to day business functions become. Primarily because you are getting on with the job and not answering phone calls all day. You may even decide that you find more time in your day and can cope with a few more customers. Or you might find managing the process more rewarding, and hire someone else to go do the actual work. Either way, there is a lot more to websites than just sales, and these days a simple website doesn't cost much more than a box of business cards.
Make today the day you get your business website online - grab yourself a free trial with NZ's best website builder now.