Website World is an online tool for building your own website, it includes a free shopping cart that integrates with Lightspeed (recently rebranded from VendHQ).There is a fee for using this plugin to integrate with Lightspeed; please login to the CMS to see this fee in your own CCY. Lightspeed is a 3rd party product for managing your sales and stock control for both online and POS transactions simultaneously, Monthly fees apply for hosting your website with Website World, and for using Lightspeed (which is paid to Lightspeed).
When using Lightspeed:
Lightspeed Integration will let you import products and track stock levels while logging all your orders as sales in Lightspeed
Import products into your catalogue by Lightspeed Tag.
Pricebooks can be used to set the different price points for member pricing groups,
You can use a pricebook to temporarily hold a sale on all or some items.
Pricebooks can also be used for bulk pricing (price breaks)
The available stock listed on your site will be the sum of the stock at every location you select.
You may want to create and use a register just for website sales so they can be easily told apart from other sales
Different payment options on your website (PayPal, Bank Deposit) can map to the different payment types (Cash, Credit Card) in Lightspeed
Stock levels are updated each night and new products will automatically appare on your website the next morning
What is Lightspeed?
Lightspeed is a retail point-of-sale and stock management software. Not only can it be used to sell remotly via inhouse wifi devices like PDA's or Phones, but it also syncs to your websites online store, managing both online sales and point of sales simultaniously. Daily sales from both online and retail can then be integrated into Xero (accounting Software) for reconciliation with your bank account, and you can even setup individual invoices and statements for on-account customers.
Lightspeed.com provides the full features and functionality of a traditional retail management system, that is easy to use, can scale with your business and integrates directly into your websites online shopping cart
https://www.lightspeedhq.com.au/

How to Demo
Create a trial shopping website via our free website builder trial
Hover over shopping tab, click on "API / Accounting"
Click on Lightspeed, then authenticate with Lightspeed
Configure your integration settings for Lightspeed
Import products from Lightspeed into new or existing categories via the base of "add products" link
Please note, there is a fee for using this plugin to integrate with Lightspeed, please login to the CMS to see this fee in your own CCY.
Details of Our Lightspeed Integration
All products can be imported to your website catalogue either by browsing vend product Tags, or by matching on product code.
Our product code is matched against Lightspeed SKU (or handle if there is no SKU). You can choose which you prefer if you like.
Once products are imported, the quantities and pricing will be updated on a regular basis, if those options are selected.
Other product details are not overwritten, unless you select a specific option.
Product images of new products will be downloaded from Lightspeed within a hour of product creation, but they are never overriden.
All sales information from the website will be submitted to Lightspeed, including client data, using the configurable parameters for payment types and register names.
Any new products can be added to the shopping cart, and these will automatically add to your Lightspeed inventory, if any sale occurs.
All client data from Lightspeed will be automatically imported into the websiteworld members list, so you can run email campaigns. After the initial sync of data from Lightspeed, only new records are added. We do not overwrite data in either database.
New clients will be created in Lightspeed on successful sale for an unlinked client.
Example Configuration Options Screen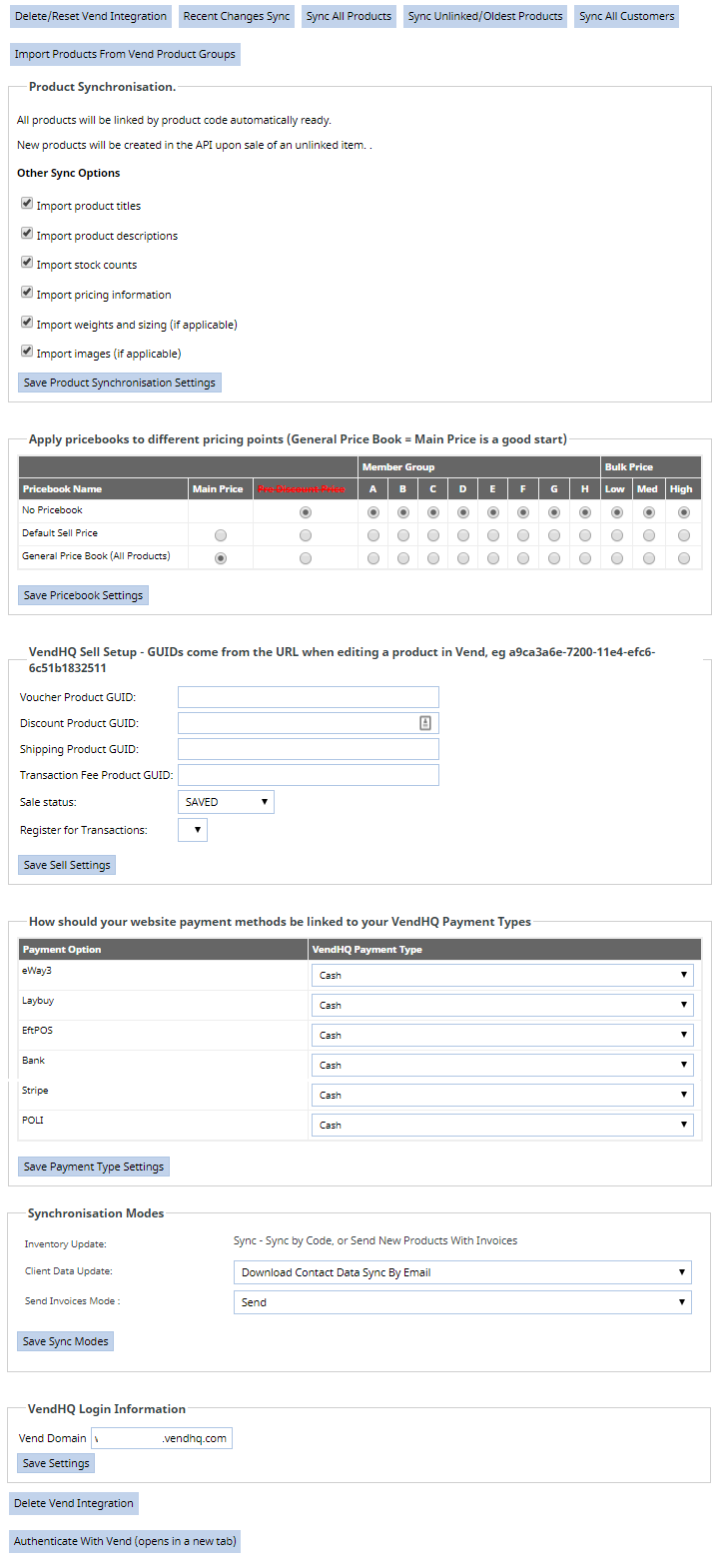 Disclaimer
Please note that integrating 2 different systems, each running their own development cycles can lead to unforeseen data syncronisation issues. Therefore, all support related to settting up your Vend account, and/or ongoing support for any issues with the API and it's related data, will be chargeable. Bugs will be looked at for free. But generally, confusion around expectations of a data syncronisation, is more of a consultancy job.
There is a fee for using this plugin to integrate with Vend, please login to the CMS to see this fee in your own CCY.