Case Study: Automotive Part Finder and Booking Engine - Auckland Towbars
Auckland Towbars use the power of our advanced eCommerce engine to help their customers find the right make and model of their vehicle, and to proceed to book and pay for their appointment.
To deliver a competitive price for their customers, Auckland Towbars needed a website booking system that is super smooth, easy to use and avoided lots manual booking management. Their prior website built on an old version of Magento, and located on an outdated version of hosting platform that was unable to be updated without breaking that website, they began looking for a platform that would be suitable.
"We engaged Website World to take over the development of Auckland Towbars new site after battling for over two years with another developer that proved to be unsuitable for the task! After speaking with Reuben from Website World we felt he knew what he was doing and that he didn't muck around, which after working with him turned out to be correct. Website world sorted out all the issues that the previous developer couldn't and improved many things on the site we had wanted done from the start. The team at Website World tackles anything that pops up and are straight forward with the solutions they have. We also use Website World for hosting, which has been stable and fast. I would and have recommended Reuben/ Website World to anyone looking for a new site or hosting."
They looked at a WordPress solution, but they couldn't quite get everything to work the way in which they wanted. Website World migrated the data from both the WordPress and Magento sites, to ensure that all products were accounted for, and all product URLs could be mapped to new SEO friendly URL formats. We also worked with Auckland Towbars' preferred external SEO professional to get all their required SEO features just right. With working with an external SEO expert, the focus was to ensure that the right make/model towbar would show up if a customer searched on Google for "towbar" + their vehicle make and model.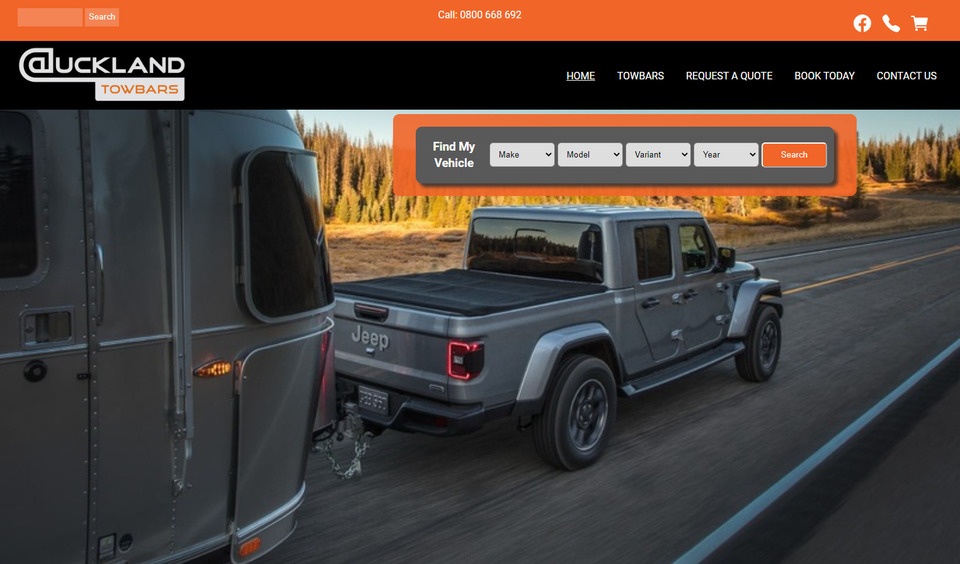 Solving the Problem of Customer Product Identification
Auckland Towbars needed a website booking system which assisted customers to independently find the correct towbar for their vehicle and book a time for its installation. A key problem to solve, was in helping the customer identify their exact vehicle type as this dictated the required towbar, and without the need for manual intervention by the team at Auckland Towbars.
However, the range of towbars available is enormous when you consider every make, model, year and variant of vehicle that it might match. Some vehicles do not change from year to year, but during some years, a vehicle may have more than one variation.
To achieve this, customers needed a way to identify their vehicle type, even when there are two possible options for the vehicle make, model and year. The part finder toolbar assisted customers with this by entering those three key pieces of data, and then the ability to select the right model by clicking on the image most resembling their vehicle. Once the right vehicle was identified, this then determined the right towbar to be installed. Also, some towbars had variations of the install process, such as different towbar types, wiring choices and other features that affected the price, which needed to be shared with the customer.
Once a customer had decided which towbar they wanted, they then needed to select the date, time and location for the installation. It was vital that this booking process ensured that only one job occurred at a time.
The solution this was to use the powerful product search engine created by Website World. This product search engine enables a lot of meta data associated with products to be searched and filtered in many different ways. Like for Auckland Towbars, we can customise a part finder toolbar to deal with the interrelationships of the meta data. For example, if you pick "Tesla" the form automatically preselects "Model 3" and "Sedan", leaving only the year to be selected. This saves the customer time of selecting an option, when only one option exists in the list.
As an aside, recently one of the team at Website World also engaged Auckland towbars to install a towbar on their vehicle. The service they provided was fast, professional, and offered great value. We highly recommend getting your next towbar from Auckland Towbars.