We hope everyone is well and enjoying the start of a new tax year.
In this issue of Website Builder news, April 2014:
CDN Service now live
POS Point of Sale Mode
Even more new domain suffix options
Clearing Your Cache
Mobile Version Upgrades
Support Improvements
Professional Web Design Services
One-on-one training options
Better Broadband
Affiliate discounts
Start your own business - reseller options
Cool links/system links
Websites of the month
---
CDN Service Now Live
Nearly all our websites are now hosted on our super fast CDN (Content Distribution Network) service.
Those who are missing out are those who have their domains registered with a 3rd party registrar and we have not been able to transfer you automatically. Your website will be continue to be hosted fast in NZ, but may not be as fast internationally. When you get the opportunity, please update your WWW CNAME record to "hosting.cms-tool.net"
Normally you would need to pay about $40-$50 a month for a CDN service, however, we plan to give all our customers the benefit of this CDN service absolutely free.
Learn more about the CDN Service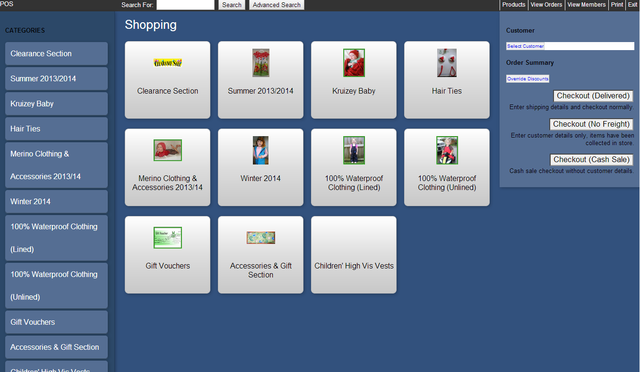 POS - Point of Sale Mode Now Live
You can now use our POS mode in your showroom, or at markets on your ipad or tablet. We are still working on making it super awesome on mobiles.
The POS mode is a fast tracked shopping cart that keeps all your inventory in sync.
You can even add discretionery discounts, and pick up incomplete web orders.
Within the CMS view orders section, if you retrieve an order, or repeat an order, you will automatically enter the POS mode.
You can setup additional staff to use the POS mode without logging into the CMS. You can get more instructions on this from within the CMS>
Stay tuned for more options in coming months.
Free POS - Point Of Sale System now available for free
New Domain Suffix Options
There are heaps of new domain suffix options like .clothing and .photography. These domains cost about twice to three times the cost of ordinary domains, but do offer many new options for getting a domain name with good SEO keywords included.
Mobile Version Upgrades
We have made it a little easier to edit the default mobile templates within the CMS. In the mobile settings area you can either enable/disable this feature, or select which content you want to show as an introductory page, (or your normal home page). You can enable custom templates too, or continue to use our standard template. You might like to add a low res banner to your mobile template to personalise it a little more, but remember these images are not always liked by users.
If you would like some help upgrading the mobile version of your website, please contact one of our independent web designers to help you. For a small fee, they can customise the mobile version with a banner and colours to more closely resemble your brand. Our default mobile mode has been created with users in mind, so that they can quickly get to the information they require, without dealing with the complexity of a desktop version on a small device.
/webapps/d/21/347206/web-designers-specializing-in-our-cms
Clearing your Browser Cache and Publishing
With the introduction of the international CDN hosting service, it's important that we highlight a few issues with regards to browser and proxy caching.
The importance of the publish button is even greater now. Once apon a time, product page and blog page updates might have published instantly, now you have to press the publish button to see changes.
If your site had errors, or was offline for a short period, you may need to press PUBLISH again to tell our CDN service to check for updates on your website. Publish will generally resolve most issues.
People in different parts of the globe, may now see different versions of your content. The CDN will cache your website in different locations based on the time content was first accesses. Pressing Publish will ensure every one gets the latest version.
Learn more about Clearing your browser cache
Improved Support
We have had lots of great feedback on our improved support roster. We are now answering 90% of phone calls within a minute, and answering most emails within 20 minutes. Remember if calling, we only have 1 support person on phones at a time, so please ensure you only call us if your email is not working, or keep your calls nice and fast. Please note our phone support line is not provided for adhoc free training. If you need help learning how to do something, please ask for a quote and organise a time for one of our designers to call you back.
Urgent emergency issues can be requested fastest via our support ticketing system. It will generate TXT alerts to our key personel, who will look at your issue promptly. However, if you use the urgent status for non emergencies, we will get a little upset and may put your ticket to the back of the queue while we deal with real emergencies.
Professional Web Design Services and Training
If you require training or professional help getting started with your website, please review their portfolios, specials etc and contact a local consultant. We have authorised all our resellers and design consultants to engage with you directly, and bill you directly for their time.
You can see all the available consultants at the following link from all across NZ.
/webapps/d/21/347206/web-designers-specializing-in-our-cms
Personalised one-on-one training
If you require personalised training, please contact one of our consultants
We would encourage all customers to get at least one hour of training at the early stages of building their website, and one more review prior to going live, just to give your website that professional critique, and quick tidy up of the rough bits.
Training topics include:
How to use website builder and shopping cart

How to design websites

How to crop and tidy up photos

How to optimise to get your website higher on google and other search engines

How to setup a facebook page, or other social media account

How to send newsletters

How to use any other feature we offer.
Book personalised training here
Better Broadband
We have teamed up with the awesome 2talk team to offer you some great broadband options. If you have become disgruntled with your current telco, now is the time to move your business to voip and get a great bundled broadband offering.
/webapps/l/21/347206/nz-broadband-providers
Receive a 20% discount off your web hosting, for life, by referring a friend
Did you know that if you refer a friend to use our awesome website builder service, you get a 20% discount off your hosting? If you refer 5 friends, then you will essentially get your web hosting for free! Not only that, but your friends will also get their 2nd month web hosting absolutely free. That's a nice little encouragement for them to check our service out and gives us the opportunity to setup your discount. Both discounts apply for your 2nd and subsequent websites also. It doesn't matter if it is yours, a friend, family or a stranger. Discounts begin once both websites are live. Please make sure you or your friend communicates the referral at the earliest opportunity.
More information about affiliates here
Reseller Options
We have an awesome new offer for web designers and awesome business networkers. We can setup any web designer who is interested with all they need to get started as a web designer at no cost:
There are no setup fees, no contracts to sign.
You will earn $2+ on every domain name sold (based on RRP $19 per year).
You will earn (20%-50%) commission on hosting
You can manage all your customers content, domains, emails etc, easily from just 1 login.
We take care of all the billing arrangements, so no administrative hassle.
If you know of anyone who might be interested, point them at our reseller page. We'll offer a $100 finders fee commission for any existing customer who finds us a new reseller who set's up 3+ live websites. Offer expires 28th Feb 2014.
More information on reselling here
---
Need Help! is at hand...
There are several places you can find answers to questions about how to build your website and add features (which, there are a lot of) and its free for you to look:
If you can't find the answer you need - then get professional help
Contact - Web Designers or lodge a Support ticket
In 99% of cases the answer to a problem is covered in one (or more) of these places. We always fix bugs fast, with all the users we have we get notified very fast of any real bug - they are not common, so if you are having an issue operating the CMS consider some online training with us - you'll always take something away worth value. In all other cases we are happy to do anything you are having trouble doing yourself for a small fee starting from $20 for 10 minutes.
---
Cool links
All those links and more at our new toolbox page: More Toolbox / Links
---
Websites of the month
Here's a selection of some of our recent Go Lives.
And view more examples of websites powered by website builder
---
Please contact us for more information.
From the Team @ Web Widgets Ltd - Free Website Builder