Web Widgets provide detailed web statistics that allow you to see how many visitors you are getting, what countries they come from, what links they used to get to your site, what pages they looked at when they got here, how long they spent on your site on average, and what search engine keywords are working for you.
The Web Statistics package we use is "awstats" and is provided free with all hosting plans.
You may also like to use Google Analytics. You can easily add Google Analytics code to the footer of your website and get the best of both worlds.
See an example screenshot below of the awstats output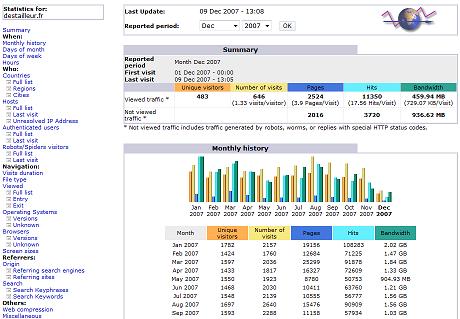 The most important web statistics you will see include
Unique Visitors - How many unique people visited your website in the last month.
Unique Visits - How many times did they collectively visit? eg perhaps some people visit more than once per month.
Pages - How many pages did everyone collectively look at?
Countries - Where are your visitors coming from?
Incoming Links - Which websites are linking to you?
Search Engines - Which search engines are giving you traffic?
Robots - How often are the search engines checking your website for new content?
Duration - How long are people staying on your website? This is a good indication of the quality of your home page... Aim for 60% or less leaving within 30 seconds. 40% staying longer than 30 seconds is good.
Keywords and Keyphrases - What keywords are working for you? You might find this very interesting, and not what you expected.