Learn how to make a website using our free website builder and free shopping cart software.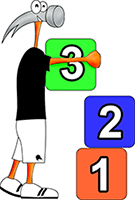 Make your own website easily in just a few hours. This page demonstrates the typical process our customers follow when they require a new website
Confirm that we are the right solution for you by checking our feature list, pricing and examples pages
 
Determine why you want a website. Is it to "inform" your customers about your products and services? Or to provide another way for your customers to "buy" from you?
 
If your branding is important to you, then you should contact our recomended web designers, so that they can tailor a design quote for your specific needs.
 
All websites start with a 30 day trial that you can begin immediately. There is no obligation or commitment to continue after the trial period, although you can contact us to extend your trial at any stage.  The free trial is the best way for you to create your webspace and see how easy it is to use our content management system.
 

 

The website you create during your free trial is the same website you will have when you go live. You can login to our CMS at any time to make changes to the content of your website, to upload photos or to add text and links.
 
You will want to reserve your web address at some stage during the design process, at least a day prior to going live. You can reserve your name at any time for just $19+gst for domain names. We will freepark your domain name for up to 1 year while you design your website. You can have unlimited domain names. You should register your domain name early as it takes 6 months to be listed on google.
  
When you are ready to go live, you need to pay the first month's hosting fee.  We will then make your website live on your web address and remove our "under construction" banner.
 
That's the process complete. We will continue to host your website, and you can continue to login at anytime to make changes to your website with all of the same functionality.  You can also monitor the statistics of people visiting your website, manage members and create a monthly newsletter.
 
Please contact us if you have any further questions about this process or with any other support queries.