Creating an Awesome Website for Your Business is Easy!
Since 2000, we've provided NZ businesses with the tools they need to create websites which look great, function superbly and help them promote and sell online.
Learn how to create a website easily yourself for free. Our feature rich free website builder has all the tools to help you create your own online shop, booking system and website!
With only 6 steps to create your website, you can get it online within hours - not weeks!
Choose your colours and fonts
Add your content
Go Live!
It's so easy to create a website for free at Website World! Let us show you how.
Start Your Free Website Trial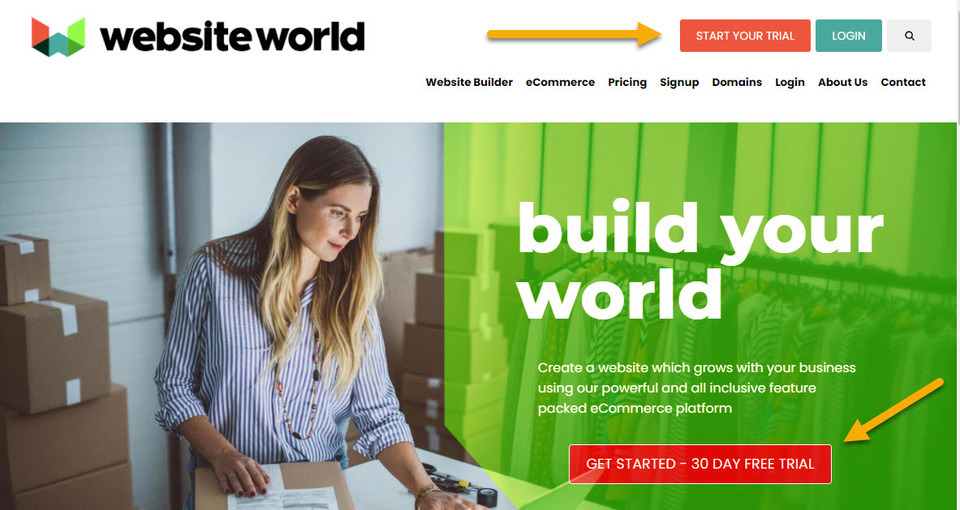 Next choose from our range of professionally designed website templates. We've done all the hard work for you, providing you with templates that are SEO friendly, easy to customise, versatile and incredibly functional. You can choose using filters to help narrow down your options, including by colour, features, categories and eCommerce.
In this example, we have chosen to use the Minimal ContentBox (100% Wide) as our demonstration site.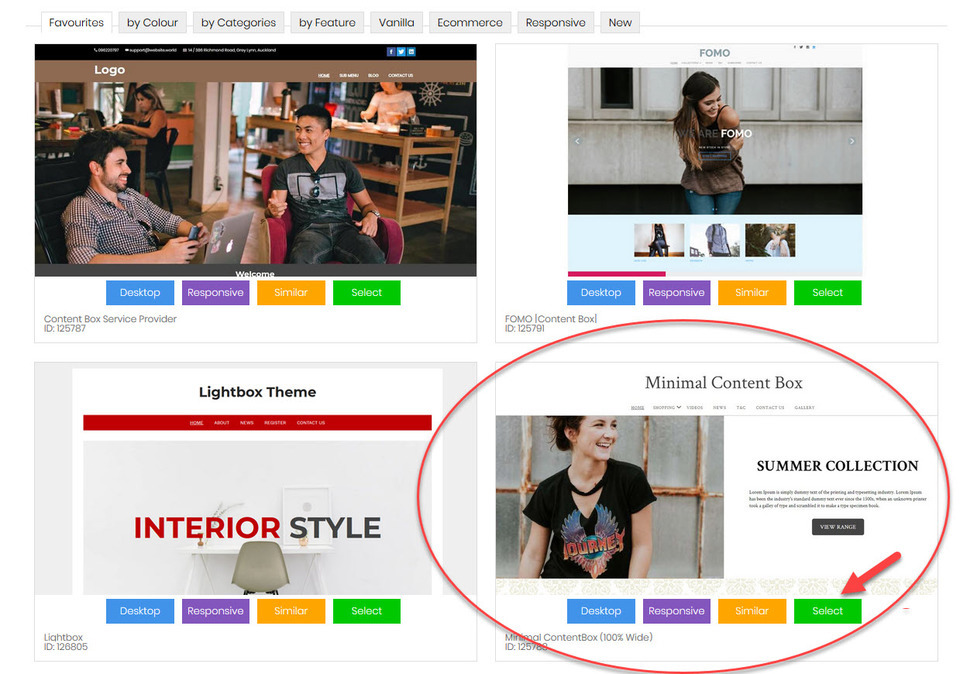 After you've chosen your template, you'll be asked to select the type of website you want to build (restaurant, shop, trade ordering, accommodation, artist, blogger, appointment scheduling, tradie). This lets us pre-populate your website with the appropriate pages for your industry. We've chosen to build a shop for our demonstration, as this includes a built in shopping cart to sell online with.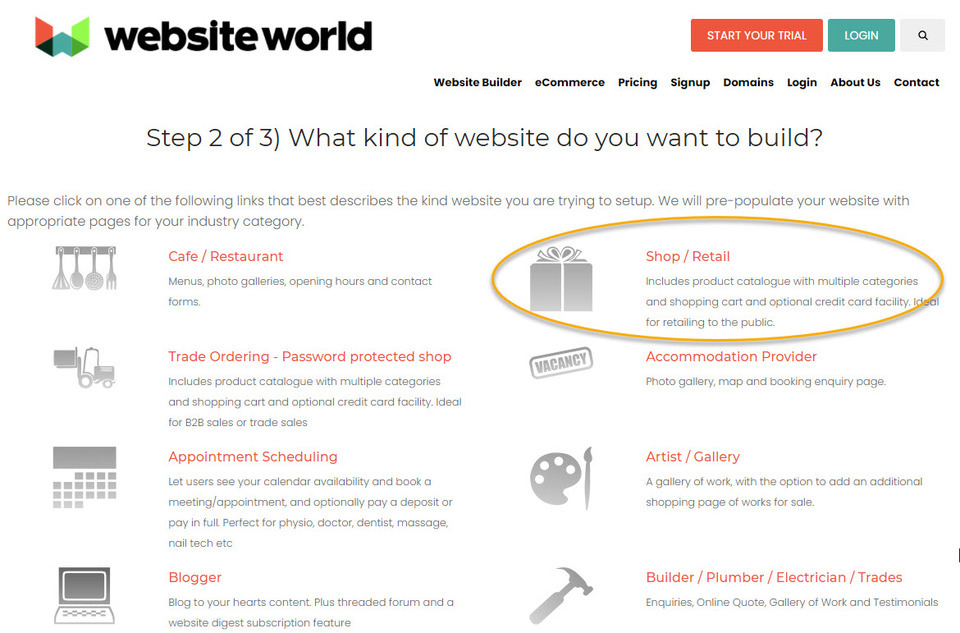 Next you will be directed to a page where you'll enter your website name and contact details to start your free trial. Following this, you'll be sent an email to confirm your email address. This email also contains a link to login to your new site, along with a temporary password. Upon logging in, you'll see this Welcome Dashboard which is where you have complete control over your new website.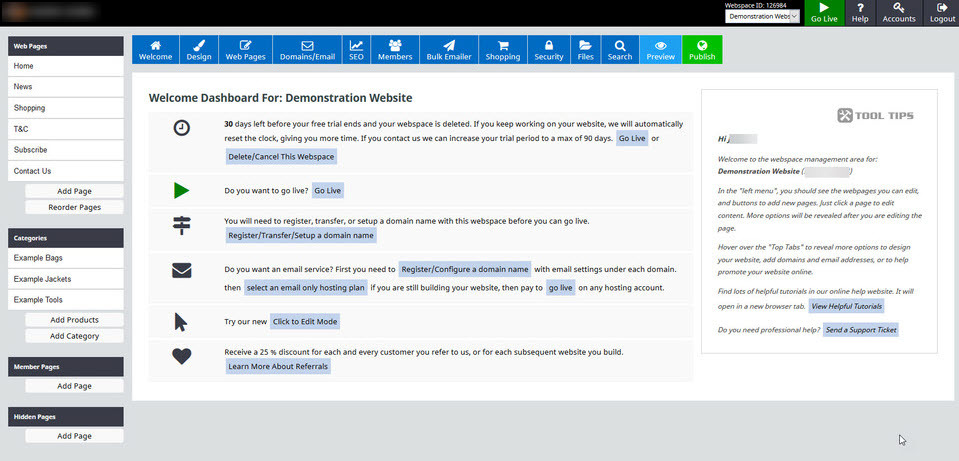 Choose Your Colours and Fonts
Changing your font type and size can be done through the Design option on the menu (for the entire website) or on each page (for individual pages). From the Design menu, select Colours & Fonts. Scroll down the page until you see the Fonts box options. Here you will be able to edit the: General Font, Heading Font, Font Size and Line Height. You also have the ability to upload a different font for your website, from either a paid provider or Google Fonts.
Changing the general colours for your entire website is done via the Design Tab, then selecting the Colours and Fonts option. Once on the Design Options page, you will be able to edit the colours for many different areas on your website.
Colours are given a Hex code or colour number, making them more specific than simply being called 'dark blue' for instance. You can enter your hex code in the box next to the item you want to change colour for, and then click in another box to save it. Or you could click on the Pick Colour button and then manually choose a colour from the Colour Wizard and then select the Use Colour button.
Save your work by clicking the Save Changes and then the Publish buttons.
Our templates are incredibly flexible. You can add and remove pre-designed pages or parts of pages, change the position of text, headings and images, add buttons and videos and link to other pages within and outside your website.
You have the option to do these things using your choice of editor. Our three most popular editors include Word Style (TinyMCE), Drag and Drop and ContentBox.
Register Your Domain Name
Your domain name is like an address for your website. If you don't yet know what to use, take a read of our article Tips on Choosing a Domain Name. If you already have a domain name, but it is hosted elsewhere, we can help you move this to us for free - just ask. Or you could do this yourself through the Domains/Email area of the CMS.
To purchase your domain name, from your Welcome Dashboard area, choose the tab Domains/Email and then Search and Register New Domain. You'll have the option to choose your own suffix, with most New Zealand businesses choosing either .co.nz or .nz. Domains are usually registered for one year, and renewed yearly. However, you can renew your domain for up to 10 years.
To make your website live, it is as simple as clicking the green Go Live button and paying for your website hosting. Web hosting can be monthly or yearly and we recommend setting up an automatic payment to ensure your website remains online. Once your website is live, you can continue to add new content and change the way it looks. The only thing you should be wary of, is deleting products or pages. These should be left live on your site, but set to hidden or out of stock for SEO reasons.
The team here at Website World are here to help! Make sure you check out our Training and Tutorials for extra help and remember, the websites we host are SUPER FAST too!