AS Group Needed to Sell 10,000's of Products Online
Automotive Supplies Group NZ or AS Group for short, are the NZ distributor for the European brand Auto-Starter Poland, or AS-PL. Specialising in auto electrical parts, specifically Alternators, Starters and their component parts, plus auto ignition products, owner Blair initially took over an existing website which belonged to a 'partner store.' At first this existing website with a different provider was suitable, but as Blair's business grew, it quickly became restrictive.
Having had prior experience with Website World in the past, Blair knew that we could provide him with a website that met his specific requirements which included:
a NZ based company who shared the same time zone
quick and efficient uploading of product information via CSV
the ability to filter products by specifications
a website capable of listing and selling 10,000's of products
skilled web developers available for custom development
"Since being live with the site I have seen so much growth in our retail and overseas sales. Also having control of the data means I can make it easier to use my competitor part numbers in my system."
Quick & Simple CSV Importing Capability
With Blair receiving data for thousands of products from AS-PL, including images, measurements and other part specifications, manual product entry isn't an option. AS Group therefore makes special use of our CSV import routines.
Our platform enables uploading various CSV files, obtained from different sources, in different formats, and matching specific columns against product codes, to collate a complete product database for search and online reference. Blair also has the ability to export all of this data in a CSV format should he ever want to.
"Having the CSV upload function has saved hours and hours of work."
Customised Search Feature Development
AS Group NZ sells tens of thousands of different automotive parts. With the range of NZ car parts needing to cater for European, USA, Japanese and Australian vehicles, catalogue information for parts from some of these areas of the world can be difficult to obtain. This means customers may only have the product name or a part number which contained very little information. Because of this, Blair's website needed a function which allowed his customers find items using specific parameters. Also as Blair's products are highly specific, he needed a website search function which could accurately narrow down the options for his customers to select from.
This is where Website World has helped AS Group NZ build a very special solution, so that all the parts can be cross referenced with other part numbers, to help a user find exactly what they are looking for. Once the customer has started a search, they can then further refine their search based on other product specifications or categories, to ensure the customer does not need to wade through 100's of pages of results.
"If we get asked for a Rectifier to suit a Bosch alternator, currently we have over 200 Part numbers of rectifiers to suit just Bosch alternators. We needed a search feature into which the client enters a few specifics measurements to narrow the search down to a manageable amount to look at the options."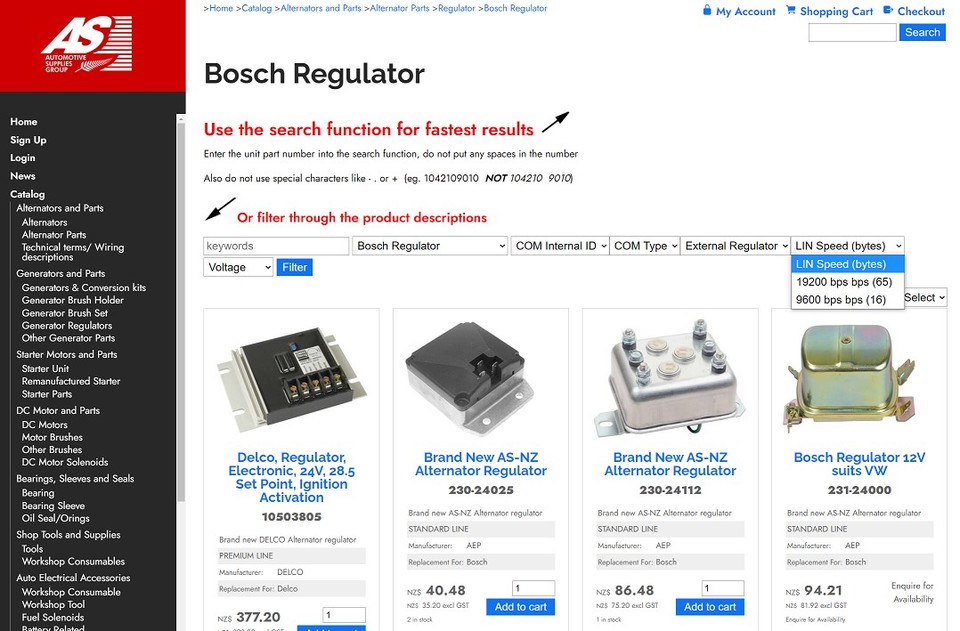 AS Group NZ's customised search engine for their parts database can be filtered by specifications that are contextually relevant to the category. In the example screenshot above, the search results for a Bosch Regulator are displayed. There are over 800 different specification types, but only four are relevant to Bosch regulators and these are shown in the above screenshot. From here, the customer can use these specifications to further narrow down their product selection.
AS Group's website integrates with Unleashed Inventory management system. This standard integration has been extended to present real time stock availability from multiple depots for selected customers.
The standard Xero integration was also extended to provide their customers with access to their invoice history as retrieved from Xero in real time.
"I had reached out to the support team and paid for tweaks and options to make the system more user friendly and easier to search for the parts my clients need. With every request I have asked for with Website world a solution has been found and some of the requests have required a lot of emails and some calls which is so much easier when the support is in your time zone."