In 2009, Smash Tennis contacted e-compass web designer Virginia Cattell to design an easily updatable and affordable website. At the time, Smash Tennis' website was built on another platform. Virginia migrated the site to Website World and it's been here ever since.
Over time, the requirements for Smash Tennis' website have changed, with Smash Tennis needing additional functionality to assist in running their business. As a result, Virginia has recently redesigned the site to accommodate the two distinct parts of the business: Tennis Coaching and the Pro Shop.
The Tennis Coaching area of the website needed the ability to:
let parents make and pay for bookings for tennis lessons and holiday camps
allow additional options to be included with a booking, such as adding snacks
be able to have new courses and sessions added quickly
make it easy to create multiple reoccurring events and copy old events
allow parents to login to the website to check and manage their bookings
The Pro Shop area of the website needed the ability to:
sell tennis products online, competing with larger retailers
be customisable to suit specific functionality and aesthetic requirements by Smash Tennis
manage product inventory
Smash Tennis were thrilled to have increased sales by 278% in the past seven-month period compared with the same period the previous year and the upward trend appears to be continuing. This is without the use of Google Adwords, or any campaigns aside from emails. This is quite an achievement, competing with some of the big players in the market, and shows how the powerful the Website World system is.
Virginia, Web Designer, e-compass
Customisable Booking System Reduces Admin Time
The administration of and manually taking bookings for their tennis holiday camps and lessons was extremely time consuming for the Smash Tennis team. Utilising the booking system that comes integrated with their website has meant that parents can now book, check and edit their bookings online independently.
Virginia completed some customisation for Smash Tennis in the booking system area by colour coding the individual lesson types, making it easier for customers to identify each type. She also asked the Website World developers to undertake some additional development work which streamlined the booking process to select multiple dates in one screen before heading to the checkout.
Customers who used the booking system also received a copy of their booking and a reminder emailed to them, also reducing admin time for Smash Tennis. The coaches at Smash Tennis benefited from being able to view and download attendance lists from the CMS which listed payment status and parent contact details, making it easy to manage each of their sessions.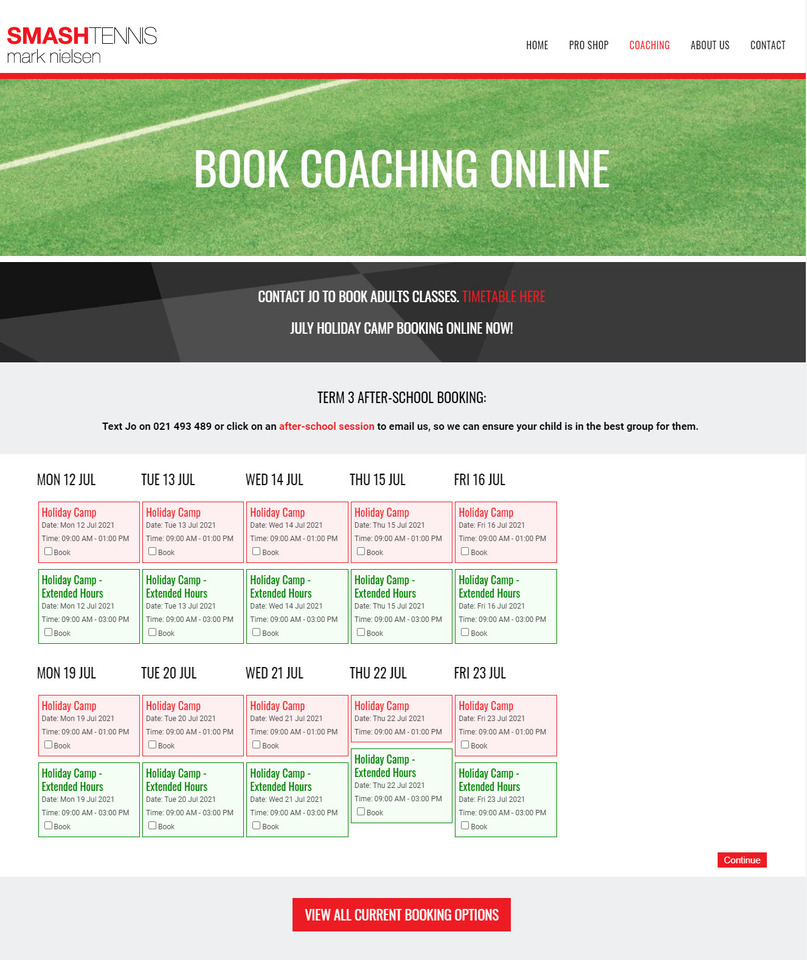 eCommerce Functionality Using ContentBox
Smash Tennis' owners Jo and Mark were frustrated that despite their great prices and range of products, they were losing out to large retailers with big budgets and a powerful online presence. Web designers from other platforms were tempting them to move with promises of miracle results, but Mark and Jo decided to remain using the Website World platform. They valued having the ability to manage their products in a familiar and efficient way, as being busy on court and with a young family, they needed the stability and ease of use our platform provided them with.
After meeting with web designer Virginia from e-compass, together they created a plan of how they wanted the site to look, with additional input from one of their graphic designer friends. Using one of Website World's professionally designed ContentBox templates, Virginia worked to provide a site which provided the functionality and aesthetics required. She also requested some paid customisation from Website World's developers to meet the specific requirements of Smash Tennis, including a side bar and shopping links.
Smash Tennis are able to display specific recommended products to customers, rather than have a generic list of suggested products displayed. A combination of this, together with their new web design and ultilisation of the inbuilt SEO features, means Smash Tennis has seen an increase in sales by 278% and a marked increase in the number of repeat customers too.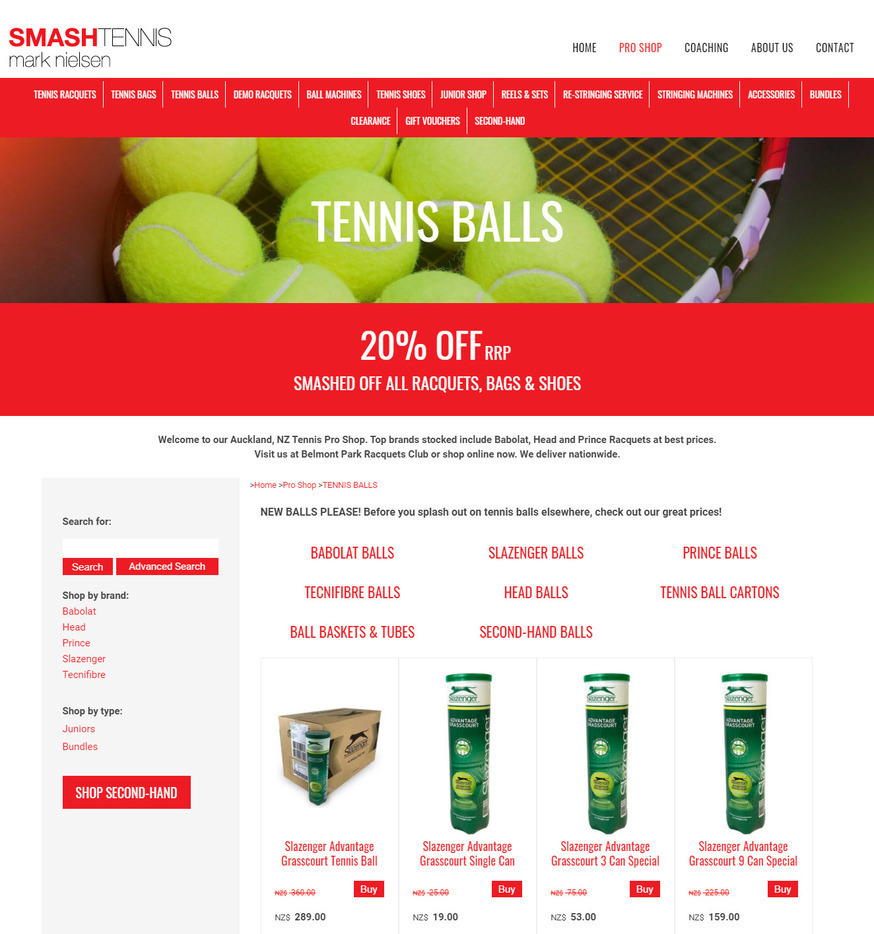 Web designer Virginia Cattell is a valued reseller of Website World and is also available for custom web design work using the Website World platform.