Established in the 1970's, New Wave NZ Surfboards are well known surfboard shapers specialising in custom board building, surfboard repairs, contract glassing, contract sanding and vintage surfboard restoration. Based out of their Gisborne surf shop, they also sell worldwide to customers via their website built using Website World's eCommerce platform.
Owners Rachael and Vish not only create custom shaped boards for riders; they also stock a wide variety of boards, paddles, fins, sups, wax and wetsuits, with their location near the beach making New Wave a popular choice for surf lessons and rentals. Whether shopping online or instore at New Wave NZ, you are assured of receiving expert advice and top quality products from surfers who truly know their longboards from their shortboards.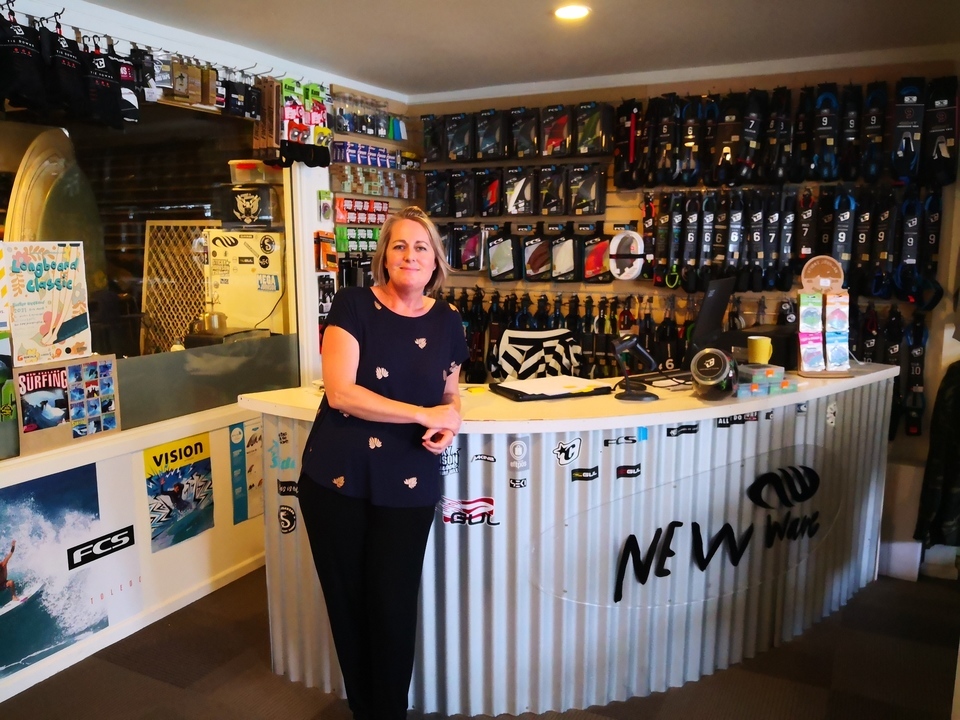 Point of Sale Gives New Wave Multiple Benefits
Rachael operates both a physical surf store in Gisborne and an eCommerce surf store. Both stores have the same inventory and customers can purchase from both. Rachael needed a way to account for real time inventory, ensuring stock was not oversold and she knew exact stock quantities at all times. Instore, Rachael wanted to be able to use a barcode scanner which linked directly to her inventory, plus the ability to put cash sales through her POS.
New Wave NZ have a PC on their shop counter to use the integrated point of sale system for their website. At their fingertips is all the product information they have loaded to their website, including details on available quantities, sizes, colours and pricing.
Barcode scanning is simple and any standard barcode reader compatible with your device can be used. The barcodes are read and entered into the search bar, which takes you directly to the product page so Rachael can add the items to the cart. She has the option of printing invoices or receipts for the customer or sending it to them via email.
Rachael has the option of adding new customer details, linking to an existing customer's details or choosing a fast cash sale upon checkout. This is ideal for her repeat customers, as she is able to manually enter special discounts, vouchers or redeem loyalty points instore for them.
"The savings of time spent on data entry has been a big win for us since making the jump to the POS from an Xcel spread sheet. I researched quite a few POS providers and the decision to go with the POS included within my own website platform was a no brainer. Accounting for real time stock movement within my system is a big benefit."
Reporting Made Easy Using POS
One of the features Rachael and Vish take advantage of within their POS is the inventory data. Once they have added their products and in-stock quantity numbers, all the product quantities are available immediately upon logging into the CMS or POS of their website.
With no 3rd party systems to synchronize, no batch processing issues and the knowledge that both online and POS orders are processed online via the same internet connected database, no manual recounting of stock is required and no products are oversold.
"The POS offers everything I need; robust reporting, stock take reporting, customer data base, emailed receipts, ability to credit payments towards an order, link in a bar code scanner for quick POS processing, and the ability to create hidden products that I need in my POS system (such as repairs) but don't need to be visible on my website."
Website Migration Service Makes Moving Platforms Effortless
Rachael originally had a US based web provider before migrating over to Website World. With no SSL certificate, a lack of shipping options, limitations on the number of images per product allowed, poor SEO and being limited to support within their time zone, she began looking for a local provider.
"I chose Website World as it was a NZ based web host, they had pretty good hosting fees that included some amazing features that I hadn't found anywhere else despite all my searching. My initial enquiries were quickly replied to ( no waiting for overseas time zones!) and they gave me great support and good clear direction on how to remedy my queries."
Website World offers a website migration service, which Rachael used to move her website over from her old provider. This included moving all text and images, while also keeping the URLs and the site map the same.
"The website migration from my old site to my new one was pretty easy! I have a lot of product pages and information pages to transfer. The thought of having to re enter all this info to a new platform was a bit of a headache, but the team did a complete transfer for me ( while keeping my old site live to see if I was happy with it), they tweaked a couple of details in the font and template and there it was! I'm happy to say that since the transfer my SEO has picked up considerably!"